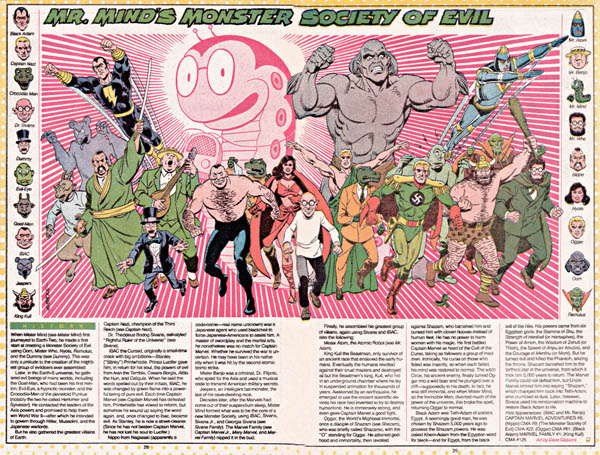 Click for larger image. You must see Mr. Banjo in all his glory.
Simpler times.
The Monster Society of Evil was a society – of evil! – dedicated to one thing, and one thing only. Killing Captain Marvel. Because they hates them some Captain Marvel. The original Monster Society was probably, by our standards, the most mainstream and serious. Formed by Mr. Mind – and you know Mr. Mind already, I would guess, but if not, he's an evil little worm who wants to conquer the universe – and featuring Oom (the big gray guy who beat the crap out of his enemies), Nyola (a demonic sorceress), the Dummy (a psychotic little bastard who later was adapted to become the first Vigilante's archnemesis), Ramulus (a sort of plant-human hybrid wizard) and Mister Who, possessed of one of the worst supervillain names of all time. Seriously, when Roy Thomas brought back the Monster Society in All-Star Squadron, he basically had Dr. Fate and Hourman do an Abbott-and-Costello riff on Mr. Who's name.1
Then things… changed. Mr. Mind's first Monster Society didn't quite work out, so he started recruiting more guys. The evil Goat-Men! The evil (and unimaginatively named) Evil Eye! The evil Crocodile Men! Well, actually only two of them. Herkimer and Sylvester. But they sure hated Captain Marvel! They hated him so much.
When attacking Captain Marvel with the furry brigade resulted more or less in what you would expect (hint: abject defeat), Mr. Mind went out and got more guys, fetching Dr. Sivana and Ibac and Captain Nazi, all definite challenges for the Big Red Cheese. Also, he got Mr. Banjo. Mr. Banjo is a spy who played the banjo, and by this fact quite probably had a worse supervillain name than Mr. Who. Seriously, "Mr. Banjo?" One kind of has to wonder at Mr. Mind's overall strategy. "All right, I've got a demonically-powered strongman, a massively superpowered Nazi, the evilest mad scientist on the planet… hey, this guy plays the banjo! Let's bring him in!"
Of course, Mr. Banjo was better than Nippo from Nagasaki. No. Seriously. That is what they called him. Nippo from Nagasaki. You have to love that DC Comics didn't bother trying to hide this in the pages of Who's Who, regardless of how racist and tasteless it was. Their sole concession was suggesting that possibly "Nippo from Nagasaki" was not his real name, but instead a codename given to him by his self-hating Japanese masters. Still, regardless of his bosses' need for serious therapy regarding their self-esteem issues, Nippo was in the Monster Society! Because he hated Captain Marvel.
Also, there was Jeepers, the intelligent rat-man. The less said about him, the better.
Of course, these guys got their asses handed to them too, because surprisingly Captain Marvel had no weaknesses involving banjos or racism. Decades later (thanks to DC wanting to explain why there were no Captain Marvel comics between the 1940s and 1970s, they handwaved up a suspended-animation sort of solution), Mr. Mind would again bring about the return of the Monster Society of Evil, this time with serious heavyweights: Sivana again, of course, and Ibac, but also King Kull, who was sort of a superpowered Neanderthal, and Black Adam (who wasn't yet as badass as he eventually became), and Mr. Atom the atomic, vaguely dildo-shaped robot – and Oggar, who was essentially one of the Wizard Shazam's former bosses who got laid off and was still bitter about it.
And then Captain Marvel beat them all up again. Because that is what Captain Marvel does.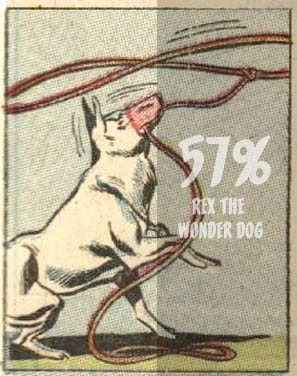 Okay, so the Monster Society are goofy. But you have to admire their inclusivity. If you hate Captain Marvel, you're a member! And that's why there are so many of them.
Top comment: One of the great things about DC is that all the rogue galleries have a unique theme behind them. Superman's villains are all twisted reflections of him, vying philosophies of what makes a "super man". Batman's villains each exemplify an anxiety of modern man whipped into a killing frenzy. Wonder Woman fights about the dark dead-ends and criticisms of empowerment. The classic rogues of The Flash mix common sense and fraternal affection into their culture.
The Monster Society of Evil, meanwhile, is a bunch of guys who find stumbling down the street, drunk, at four in the morning, constantly running into each other and belligerently yelling, "Fuck Captain Marvel! Fuck that guy!" — NCallahan
This was when Dr. Fate had the half-helmet, which allowed him to magically possess a sense of humour, but also made him much, much less cool as a result. [↩]