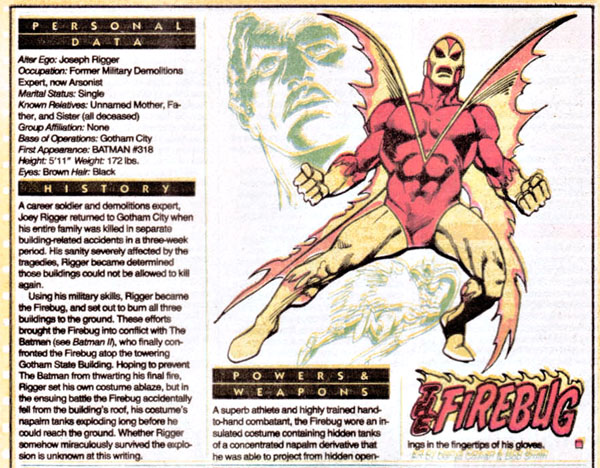 Poor Firebug. Out of all the characters to get boned by Crisis On Infinite Earths, he may have gotten it the worst.
Now, sure, he didn't die or anything. But so what? Supergirl came back. Barry Allen came back. The Anti-Monitor came back. Pretty much the only person who died in Crisis now is Prince Ra-Man, and he'll probably come back next month. No, what happened to Firebug is worse: he became redundant.
See, pre-Crisis, Firebug was Batman's official Arsonist Villain. If you needed to do a story that needed an arsonist, Firebug was your guy. It wasn't a big thing, but it was a niche. Firebug had his little place in Gotham lore, back in the days when Batman had a lot of villains who wore costumes and who were not crazy. (Nowadays, all Batman villains are crazy. Even Ra's Al Ghul is a megalomaniac with psychotic tendencies.) A comics writer would go, "I need a fire here. Hey, Firebug!" and he'd get called up. It was reliable.
Post-Crisis, though, Firefly became the fire-oriented Batman villain of choice. Which is interesting, because pre-Crisis, Firefly was a Golden Age dorkus who fought Batman with coloured lights. Post-Crisis, though, somebody realized that "Firefly" is a more poetic name for an arsonist villain than "Firebug" is, so Firefly became an arsonist – and, because Batman now officially Fought The Crazy Types, a pyromaniac as well.
And that left Firebug out in the cold, so to speak. There was only one potential career path for him now: that of the loser semi-retired ex-villain who gets made to look like a schmuck, preferably by a C-lister or below looking for a bit of a boost rather than a major heroic type. And of course, that's exactly what happened in the very first storyline for Gotham Central.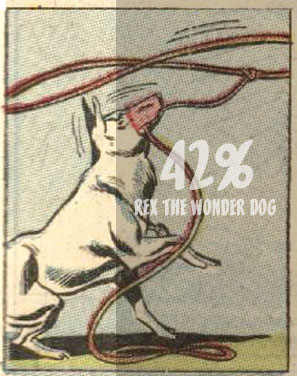 But even then, he did his best, and was a quality schmuck.