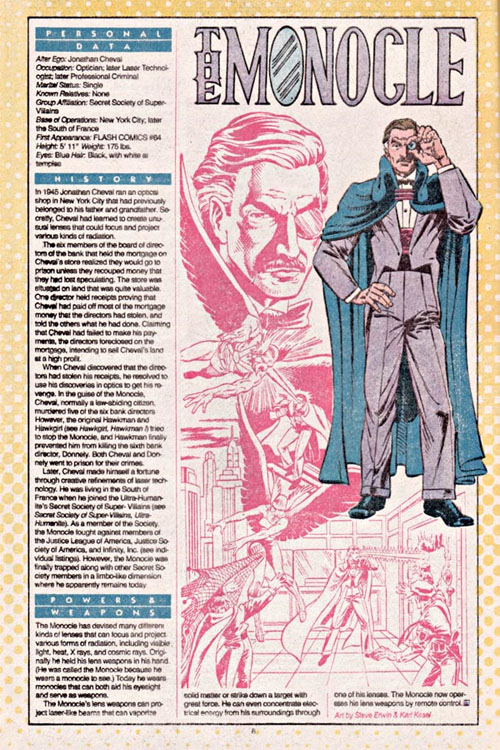 Sometimes a good comic can make a big mistake. In Manhunter, that mistake was killing off the Monocle.
This is because the Monocle was a pretty goddamned great supervillain. First off, he has exactly the right amount of tragedy in his origin to be one of your more compelling supervillains. He was an honest businessman and a skilled scientist who got screwed over by greedy bankers (see? See? He's even more relevant now) and then went the overreacting-because-he's-a-villain route and started murdering them until Hawkman (who, as a good conservative, of course has to protect Big Bidness from the dangers of the little guy) stopped him.
On top of the great origin story, though, the Monocle brings more to the table. First off, he looks really cool. Full 40's-style evening dress, complete with opera cloak? Bad. Ass. (Consider how many super-characters wear opera cloaks. It's Monocle and the Phantom Stranger. That's pretty rarified company.) And that's before you get to the Monocle's monocle, which could shoot lasers and strobe blinding lights and just generally be wicked cool.
Secondly, it's not just that the Monocle looks classy – it's that he is classy. When the Ultra-Humanite recruited him for the Earth-2 side of the Secret Society of Super-Villains, the Monocle was in retirement, having stolen quite a lot of money and not needing to be a criminal any more; it took the promise of humiliating Hawkman to lure him back. (This is because Hawkman is a dick and everybody hates him.)
So, the Monocle is cool. What happened? Well, first Brad Meltzer used him for the first time in eons for a brief walk-on in Identity Crisis, where he basically said the Monocle was not all that and a bag of chips. This was hardly the worst thing about Identity Crisis but certainly proof that the comic was flawed on every possible level rather than just being an otherwise okay comic with a big event that was a bad idea. But then, after that, Monocle was used in Manhunter, where he was A) depicted as a whiny coward and B) shot through the eye (and monocle) by Manhunter and killed instantly.
LAME. That moment was the low point of the entire run of Manhunter, an otherwise good comic.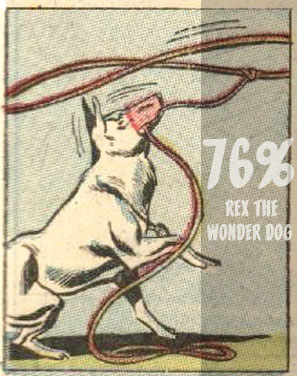 There reasonably has to be a son or twin brother or something who can pick up the Monocle's monocle and carry on. Good villain concepts are rare. Why waste one?