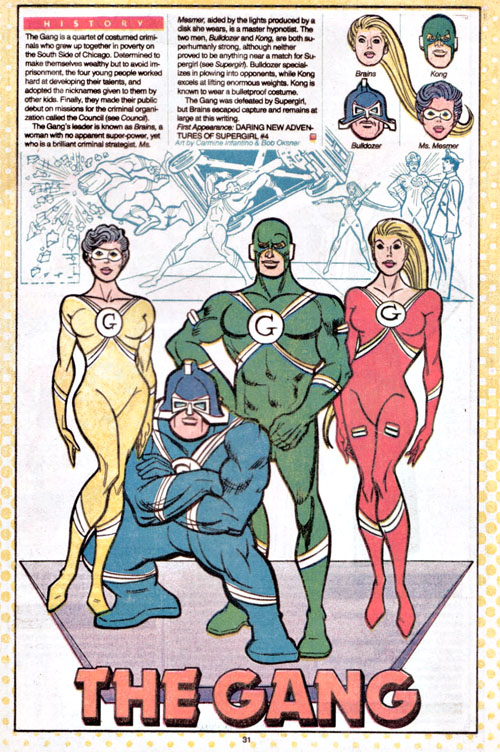 You really have to wonder about comic book writers sometimes and if they're not just playing a gag on you. Such is the reaction I get when I look at The Gang. They look like a comic book writer got inspired on a trip to Bulk Barn. "Hey, what if we had no-name brand X supervillains?"
Hence, The Gang. You have Brains, with the red uniform, who is the Smart One. You have Kong, with the green uniform, who is the Strong One. You have Ms. Mesmer, in yellow, who is The One With The Gimmick. And you have Bulldozer, in blue, who is Also The Strong One. (Presumably they felt that Ms. Mesmer having a thing was almost too individual, so they doubled down and made Bulldozer a shorter version of Kong with a slightly different fighting style.) If The Gang were pills, they would all be generic aspirins.
No coincidence that they made their debut in The Daring New Adventures of Supergirl, quite possibly one of the dullest comic books of all time. (Seriously, go track it down sometime. Then pawn off the books on somebody else. That is how dull they are; you have to witness it to understand it. They are the event horizon of dull.)
I want this entry to be longer, but The Gang is just so goddamned plain. It's like talking about vanilla ice cream, and not good vanilla or French vanilla or vanilla mint; The Gang are the vanilla ice cream you get for $2.99 at the back of the freezer, the one you know probably gets made with artificial vanilla extract and I Can't Believe It's Not Butter. It tastes like inoffensiveness.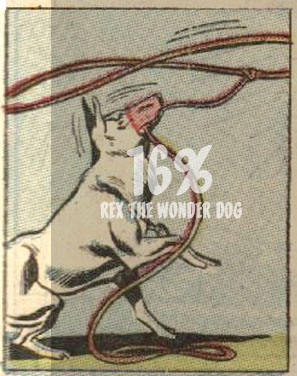 Top comment: I'm surprised you didn't notice that out of a group of criminals supposedly determined not to go to jail, the one named "Brains" is the only one not concealing her face. — 01d55