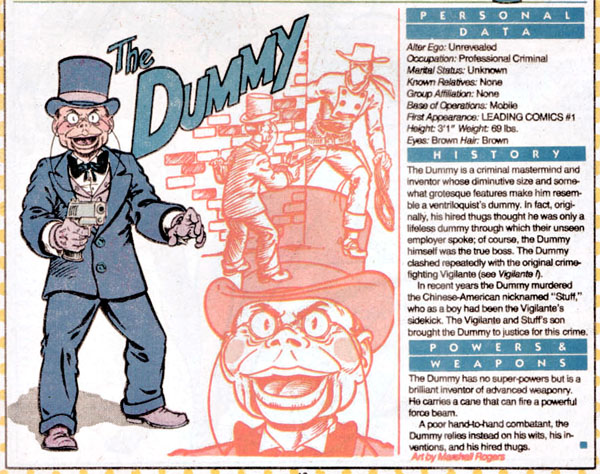 The Dummy isn't handicapped – he's handi-capable! Or possibly handi-killifying. I don't care what anybody says: you have to admire a deformed midget who takes a look in the mirror and says "I think I can make this work for me," and then doesn't go into a life of circus work. The Dummy figured out that he was freaky and that people would naturally recoil from this, and so chose to use that to scare people when he got into gunfights.
Of course, the Dummy was also really intelligent to boot. That's why when he started up his own crime ring, he pretended to be just a ventriloquist's dummy, with the real boss hidden in the shadows. (As this was the Golden Age, it is entirely possible that the Dummy was the eventual inspiration for the Ventriloquist's personal brand of insanity – although the Dummy doesn't look anything like Scarface, of course.) This was brilliant because when hoods would go gunning for "the boss," they'd ignore the dummy on the floor just lying there – except the dummy was The Dummy, and he would then shoot them in the back. That is planning.
Plus, the Dummy would invent super-weapons. Net guns, electric traps, fire machetes, that sort of thing. Okay, maybe these aren't the most impressive things in an era where you have the Metal Men walking around, but again, for the Golden Age this was pretty wild stuff. They were impressed by robots who took off their pants back then, you know.
And the Dummy had a great nemesis: the original Vigilante. The original Vigilante is awesome because he's a cowboy on a motorcycle who fights crime. He's so cool that in Justice League Unlimited he was voiced by Nathan Fillion; that's how cool he is. The Dummy never got a speaking role in JLU, but you know that if he did he probably would have been voiced by Alan Tudyk for nerd humour value.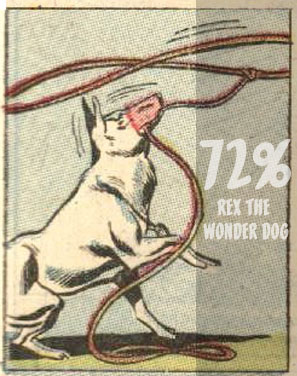 Top comment: A top hat? Classy.
Suit? Classy.
Monocle? Classy.
TWO MONOCLES? Classiest motherfucker to ever stride across the earth. — chenry