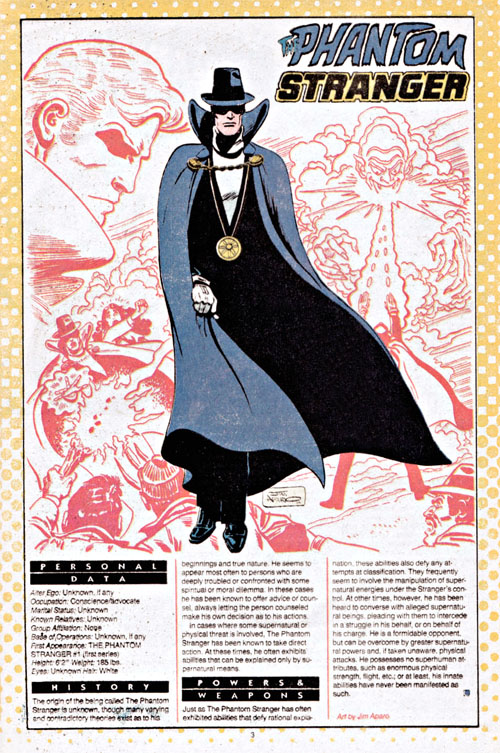 I don't really need to introduce the Phantom Stranger to most of you, I think, so I just want to say something about him.
The reason the Phantom Stranger is great is because he is the elemental expression of something we all, deep down, want to believe is true (even if we don't), and that is that the universe gives a shit about us.
In recent years, the Phantom Stranger has gotten more exposure than he ever has since his series (which he shared with Dr. 13 – man, that was some awesome old-school comics), but with that exposure has come – not surprisingly – the need to explain the Stranger a little more than he has been. This is the biggest mistake that could possibly be made with him. The Phantom Stranger is remote and unknowable. That's not a minus; that's who he is and who was designed to be. There's a reason his issue of Secret Origins contains not one but four separate possible origins: we aren't supposed to know who the Phantom Stranger is, and it doesn't matter who he is.
What matters is what he is: he's the purest possible expression of hope in superhero comics. He only shows up when things are at their absolute worst, when it looks like there's no possible way the good guys can win, whether those good guys are the Justice League or a single mother and her only child stuck in a house of horror or a lonely policeman on the brink of personal despair, and he helps. He never outright saves the day; he just gives the good guys a bit of a nudge, exactly as much help as they need to get themselves out of trouble, and then he disappears again before he can even be thanked. Oftentimes he doesn't do much more than remind the heroes of how strong they really are.
And it's cool because you know that the Phantom Stranger is crazy-go-nuts levels of powerful. He could solve all of the heroes' problems for them. But he doesn't, because to do so would be to take away the opportunity to triumph from them, and what kind of help would that be?
That's a wonderful thing. That it comes in one of the best superhero costumes ever is only a bonus.