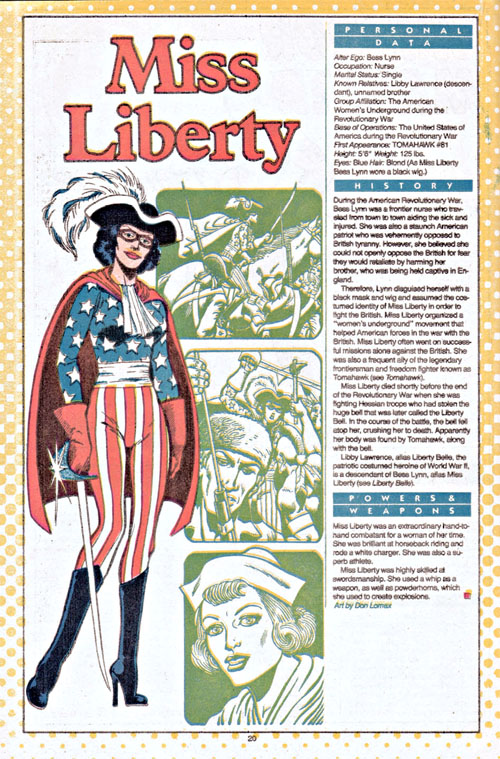 It's rare that you find a historical hero who is instantly anachronistic, but Miss Liberty is that hero. Count the stars on her top (which, at the time, would have probably only have been suitable for a really, really weird prostitute, but never mind that now). At a bare minimum she has sewn 24 into the fabric. This, at a time when there were thirteen states. Presumably Miss Liberty was either innumerate or very, very optimistic.
But she can't be optimistic, because her reasons for wearing the ridiculous costume in the first place are inherently pessimistic – she was worried that if she openly opposed the British, that the British would retaliate by doing bad stuff to her brother who was captive in Britain. Given the even-then large population of the colonies and the multiple-week travel time, this seems terribly unlikely; given the general lack of anything resembling a census or organized databases of geneological information it seems nearly impossible. Perhaps this was merely an excuse; Ms. Lynn decided that, by gum, she was going to put on her ridiculous costume better suited to the mid-18th century (at least in terms of state count) and fight the British with a sword and whip.
Also note that Miss Liberty was eventually crushed to death by the Liberty Bell, which definitely earns her a spot on the Stupidest Superhero Deaths Of All Time roster. I mean, at least Batman was shot with magic death eyebeams rather than, say, being smothered by bats. Miss Liberty's Liberty-Bell-themed death is worthy of The Puzzler. "You called yourself Miss Liberty and your real name is Bell! Now you're dead because of the Liberty Bell! PUZZLER!"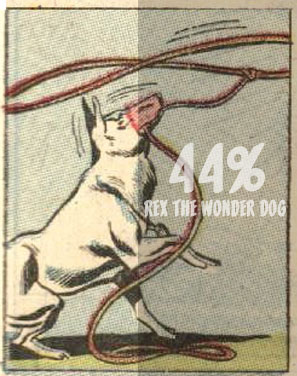 Although she is quite sad, she is a patriotic-type hero, and the bar is set lower for them. I didn't make the rules. Well, I did, but in this case it's more of a societal trend re: comical books.