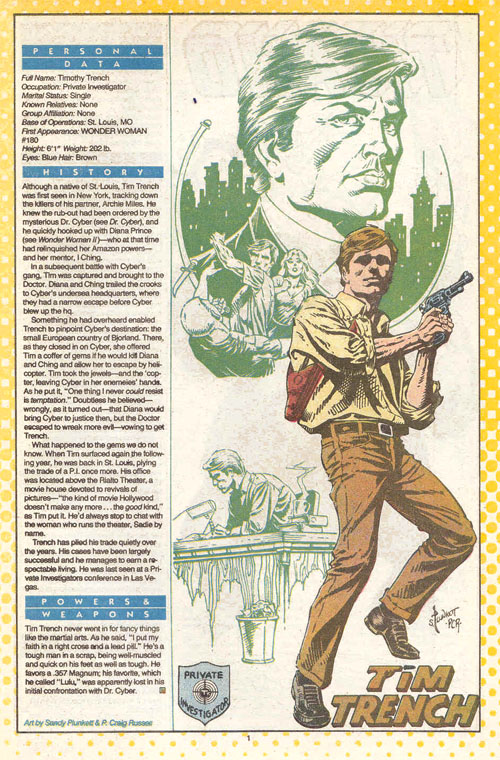 I really want to punch Tim Trench in the face. Sadly, he is fictional, so I cannot do this.
It's not because of his association with the nonpowered era of Wonder Woman comics. Which, incidentally were bad comics, and the attempt in recent years to rehabilitate these bad comics as being good or at least decent kitsch amazes me; not only were these comics bad comics on the basis that Wonder Woman shouldn't be a normal person being a swingin' secret agent, but they were bad comics about a woman being a swingin' secret agent period. Too many comics fans suffer from the delusion that the great creators were/are infallible, which is why people can actually say that Devil Dinosaur is a work of genius, rather than the far more obvious answer of "Jack Kirby having an off-day." (And the "Diana Prince era" of Wonder Woman isn't actually even by any great creators, so really it's just the same old nostalgia for stupid old crap that motivates so much of modern comics fandom.)
But I digress.
No, that is not why I want to punch Tim Trench in the face. Why do I want to punch Tim Trench in the face? Because he is a fucking poser. He blathers about how Hollywood doesn't make good movies any more and he names his gun "Lulu" and he spouts one-liners blatantly stolen from old Raymond Chandler novels. If he were a modern-day twentysomething, he'd be drinking Pabst Blue Ribbon, wearing a trucker hat, and telling everybody how he loves Superchunk, but only their old albums. If you knew him in person, you would hate his fucking guts.
Even though he is fictional.
Seriously. Fuck this guy.