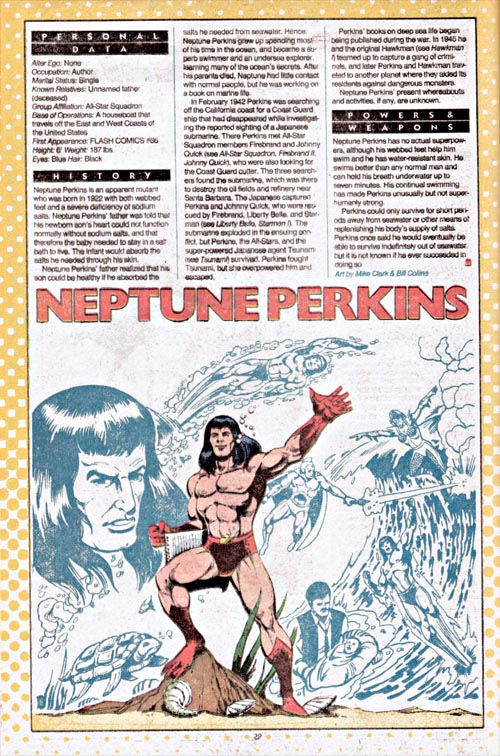 Last time on Thursday Who's Who, we examined a successful spear-carrier in the All-Star Squadron. And most of the Squadron were spear-carriers, when you get down to it: they can't all be slumming members of the Justice Society (or Johnny Quick). A lot of guys in domino masks who punch baddies. This is how it was done in the old days, see.
However, there are degrees of how awesome these guys are. Tarantula, for example, is pretty cool. But Neptune Perkins? This guy is a schmuck. Initially he had the good sense to realize that the "superpower" of having to immerse himself in saltwater every day or die was not exactly grade-A superheroing material, but then he went and joined the All-Star Squadron's Young All-Stars adjunct, presumably because with Tsunami on the team what they needed was another aquatic hero to emphasize how cool she was.
Seriously: no powers. He's not super-strong from a life in the depths – he's fit, sure, but not even, like, Captain America strong. He can't breathe water (he can hold his breath for seven minutes, which means that he can't even listen to all of "D'You Know What I Mean?" by Oasis whilst underwater). He's not a super-swimmer (although his webbed feet give him the ability to swim as strongly as… somebody with a pair of flippers!).
How useless is Neptune Perkins? He is so useless that when he grew up, he eventually became a U.S. Senator. That is how useless Neptune Perkins is.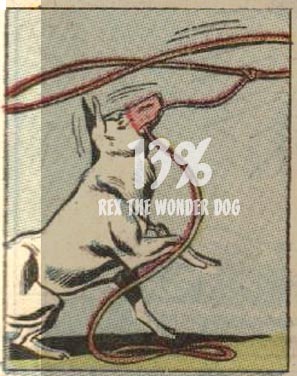 Also: his most prominent role in comics was serving as the Old Guy Who Doesn't Get It in Young Justice. That is a damn useless character.