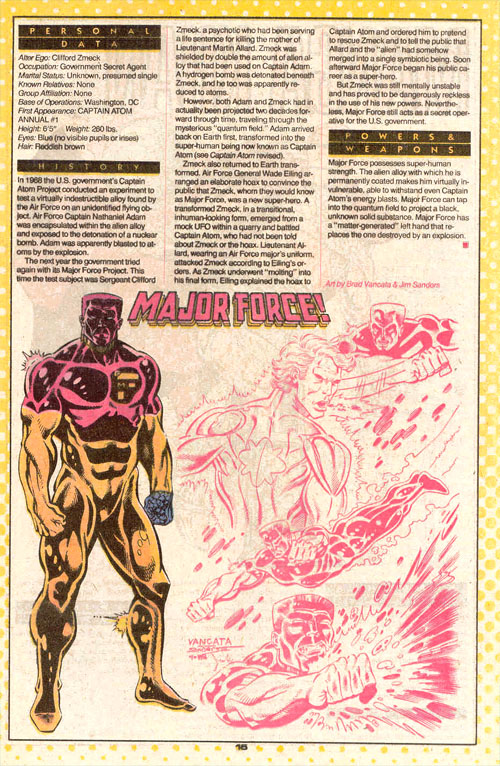 Serious question: does anybody actually like Major Force?
I mean, yes, I get he's a villain, but everybody has their favorite villains. Mine is Lex Luthor. Lots of people love the Joker or Dr. Doom. And there's always going to be one or two holdouts for the lesser lights, somebody who really loves the Gambler or the Ratcatcher or Big Wheel. That's natural. But does anybody really love Major Force? Or even like him?
It's not a problem with his concept, which is actually pretty clever. Since the experiment that turned Nathaniel Adam into Captain Atom also flung him twenty years into the future, the people conducting it had no idea that they hadn't killed him – so they tried again, but this time they used a psychotic murderer on the basis that if they killed him, nobody would care. (Of course, the question of "well, what if they had succeeded" is one that is casually walked around. I have always favoured "they wanted data on the huge explosion, but needed someone expendable to trigger the huge explosion, and so…") And then a little while after Captain Atom pops into the future, hello, it's Major Force! Perfectly good start to a story, right? And Wade Eiling (who was never, ever interesting until he became The General, which is just so comics it is perfect) makes him a government agent, and…
…that's when it goes downhill. Because Major Force is just kind of boring: he's a self-interested thug with a tendency to get violent who is basically indestructible. He has never done anything interesting ever. "A ha," you say, "but he killed Kyle Rayner's girlfriend!" And my answer is "big deal," because A) all of Kyle's girlfriends die sooner or later and B) her death wasn't about her, it was about Kyle, and Major Force could have been absolutely anybody and it wouldn't have mattered. Similarly, he killed Guy Gardner's mother for some reason I forget and again, nobody cares. Nobody cares about anything Major Force does, because he doesn't have any personality worth mentioning: he just does things other people tell him to do. Why does he do these things? "Because." Commenting on Major Force as a character is like commenting on the character of the gun that killed Batman's parents. "Well, he has this trigger. And if you pull the trigger… people might die!"
And the worst thing is that he just keeps showing up. Every time DC wants to have the government be sorta-malevolent (which is like seven times a year now), up pops Major Force like a bad pimple. He just showed up in the godawful Captain Atom backup story in one of the Superman books that doesn't currently have Superman in it, because the very moment that Captain Atom found out that the government was behind him being in a fantasy world – hey! Major Force! I think if you say "government" five times fast in the DC Universe, Major Force just kind of shows up. Like Candyman. Except he sucks.