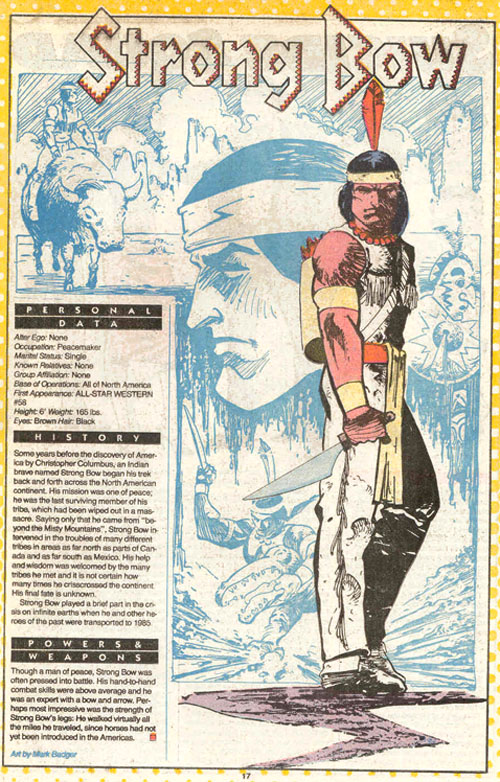 I was gonna do this week's entry starting out by making fun of Strong Bow's listed abilities, which include the fact that he has very strong legs since he walks a lot. But then I looked at him and I changed my mind.
I changed my mind because fucking look at him. This is not some happy nature warrior. Look at the face. This guy is a stone-cold killer. He's not a psychopath or a kill-crazy fun-seeker or a berserker ninja samurai Canadian possibly descended from a race of werewolves or something. He's not somebody who kills people for fun; there's no pleasure in it for him. It's just what he often ends up having to do, and he's just really, really good at killing people. You can tell just by looking at him, and by the way he holds that giant fucking knife.
This, my friends, is a total one hundred percent badass. Look at the background art, where he is stabbing a dinosaur to death. Maybe he needs meat for a long journey. Maybe the dinosaur decided to try and kill him, and found out the error of its ways. It doesn't really matter. Strong Bow doesn't care either way. It's nothing personal. It's just that the dinosaur has to die. Somewhere in the universe's cosmic planner, somebody wrote "today, Strong Bow kills dinosaur," and the reasons are really besides the point; there's need for him to kill a dinosaur, so he kills the dinosaur.
Maybe I'm basing all of this on one bit of art, but so what? Look at it.