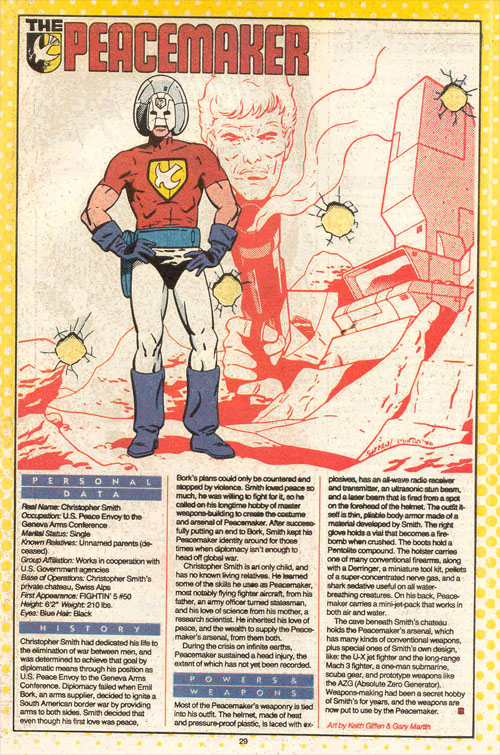 When DC bought Charlton's intellectual properties, they got some decent acquisitions on the cheap out of it: the Question is probably the most important, along with Blue Beetle ("the intellectual property so good, they shot him in the head"), and although everybody makes fun of Captain Atom the good Captain has his place as the DC Universe's official dupe of shadowy powerful men. After a long stint of meaninglessness, Nightshade managed to get a little respect as a member of Shadowpact, and they've revived the long-dormant Judomaster tag by giving it to some new girl Judomaster in JSA: Fifth One On The Right Gets A Miniseries.
And then there's Peacemaker. Peacemaker, living proof that no matter how hard you try, some concepts are just stupid. In the case of Peacemaker, the concept was "a man who loves peace so much, he's willing to kill for it." Seriously, that's his tag line. You know how I know that's his tag line? Because every writer who uses a Peacemaker – any Peacemaker – uses that tag line, because it sounds dramatic. However, it also doesn't make any sense, because it's stupid. It's a very stupid way to describe someone who is essentially a cop in a costume – moreso than most for that matter. Like Peacemaker, it only sounds cool until you think about it for a couple of seconds.
(It also doesn't help that he has a terrible costume. The Keith Giffen rendition above is probably the single best version of Peacemaker's costume and it is still fucking ugly as sin – like a Cylon on 'ludes or something.)
And he's kind of a schmuck. The Christopher Smith Peacemaker is basically a crazy dude who listens to the voices in his head (which he started hearing after, guess what, he got hit in the head!) who tell him to kill baddies. This works really good up until the voices tell him to go kill Eclipso, at which point he dies because he's just a guy with a couple of fancy guns and Eclipso is, well. Eclipso. Since then, there have been several other Peacemakers. They have all been either boring or stupid. Yes, including the new one in Blue Beetle.
It's easy to explain why Peacemaker sucks. Peacemaker sucks because he's just a guy with some guns and a little baggage. He doesn't even have Punisher-level baggage to justify why he wears a helmet that looks like a tin-plated fan. He just kind of thinks it's the right thing to do. He's so boring that the best thing he can do is be bodycount fodder. He did that just fine. Let him stay friggin' dead until the next time they feel the need to rejuvenate the trademark.