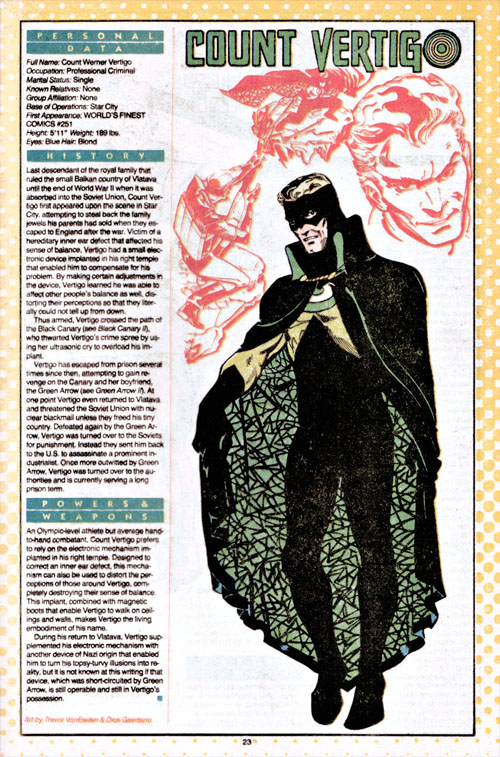 Count Vertigo is one of those villains who I think has never really gotten his proper due. He's kind of stuck in between the second and third tier of DC supervillains and should be higher.
He started off with a decent powerset that's pretty unique and a great costume (seriously, it's exactly what a supervillain costume should be: the exact right balance point between ominous and colorful, without becoming garish or over-the-top). This was later extended to be given a really great character hook: the heir to the throne of a small European country. It gave him a sense of duty and a motivation often not present in supervillains.
Of course DC tried to piss this away by destroying Vlatava, his country, when the Spectre went nuts (which the Spectre seems to do every other year now). But that was easily ignored – expat Vlatavans meant that Vertigo now had a country to rebuild. And Vertigo will do whatever he thinks is necessary to do that, and he's smart, which is why he's one of the villains who jumps back and forth between working for himself and working for the feds and working for other villains.
And that's the real reason Count Vertigo is a good character. Most villains are predictable, because most villains are ciphers who only exist to make trouble for heroes and barely have motivations in their own right beyond "want money" or "kill a guy." (The Joker, who should be a force of pure chaos, is absolutely terrible in this respect.) But the truly great villains are the ones that are capable of surprising the reader.
Major Force, as I previously pointed out, sucks because when you see him in a comic, you know exactly what he's going to do. When you see Count Vertigo in a comic, he's one of the few DC villains whose actions are never guaranteed (Lex Luthor and Captain Cold are the other two big ones in this regard for DC); maybe he's working for Amanda Waller on the side this time around and only pretending to be working for the Society, or maybe he's taking a commission for the Society proper, or maybe this is all something to do with Checkmate. He never has a hate on for a superhero, because what's the point of that? He's a professional, and not just because being a professional is cool, but because it's vital for his survival and his personal mission.
True independent agents in the DCU are rare, but he's one of them. And that's why he's good.