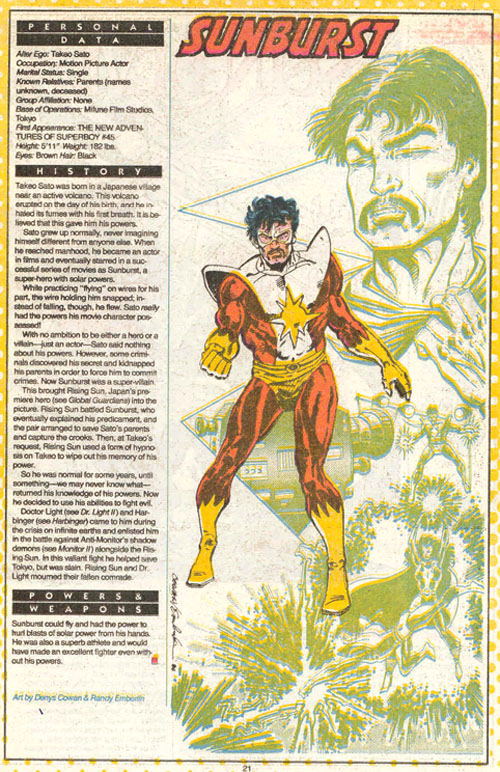 This is the interesting thing about Sunburst: other than one appearance in a Global Guardians backup story in a Superboy comic, he was a total nonentity in the DCU Universe. I mean, total nonentity: he'd even been hypnotized – at his own request – to become unaware of his superpowers. Possibly this was because whoever was writing the story realized that Sunburst's powers and gimmick were almost entirely a duplicate of the Global Guardian known as Rising Sun, who is pretty awesome in his own right.
But then, in Crisis On Infinite Earths #12, with literally no advance warning whatsoever, Marv Wolfman pulls Sunburst out of just about the deepest obscurity a comics character can go into, and not only gives George Perez the opportunity to draw Sunburst fighting the Anti-Monitor's shadow demons alongside Rising Sun as part of the superb "battle around the world" sequence (seriously, Crisis #12 is probably the most brilliantly crafted ending to an epic comics story ever and if anybody says different they are wrong and bad and also wrong), but he goes even further and he gives Sunburst a little story arc.
It's Sunburst who convinces Dr. Light (the female Dr. Light, not Dr. McRapeyrape) that to serve as a superhero is the highest honor one can undertake. With no introduction beyond Sunburst explaining that they both had to learn this, Wolfman makes Sunburst a noble figure without giving him more time than the character deserves – Sunburst gets maybe five balloons' worth of dialogue. And then after that he kills Sunburst off, offscreen to boot, because that's Sunburst's arc: he learns he has to be a hero, he nuts up and is heroic, and he dies nobly in battle against baddies. With five lines of dialogue and maybe six or seven panels over an entire double-sized comic book, which was not incidentally one of the most important books DC had ever published, the final issue of the absolutely enormous gamble that Crisis was.
Basically, Sunburst is the Biggs Darklighter of Crisis on Infinite Earths, and I mean that as a compliment. He's an object lesson on how obscure characters should get killed off: he gets a noble ending and his death isn't fetishized for the sake of gore.