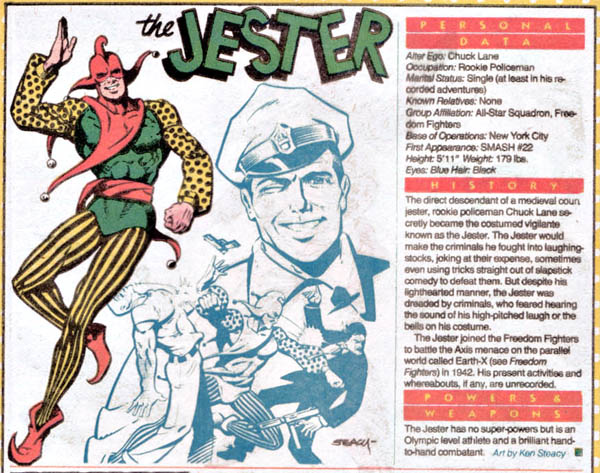 Now, if you look at the Jester without knowing anything about him, you'd probably write him off as Yet Another Bad Idea From The Golden Age (Which Is Forgivable Because It Was The Dawn Of Comics And So On). Seriously, that's possibly the silliest, most garish superhero costume of all time. Not only does it include a fool's cap and bells and a muscle shirt with poofy sleeves, but it has both stripes and polka-dots in an eye-popping yellow-and-black motif.
But here's the thing: the writers, even then, knew what they were doing! See, Paul Gustavson, who created the Jester (and also the original Golden Age Marvel Comics Angel, the one with the moustache, who has shown himself to have some legs as the more-or-less official symbol of Marvel's Golden Age – the one who isn't Namor or Captain America), recognized that the Jester was a pretty silly idea. Probably he created him after a three-day bender, looked down at the paper, then at the bottle of whatever he had been drinking, and quietly said "fuuuuuuck…"
And then he made it work. He did so by having the Jester's total ridiculousness be his gimmick: the criminals the Jester fought were scared of him because the Jester, so far as they were concerned, was goddamn crazy. Gustavson emphasized the Jester's freaky-sounding high pitched laugh in the stories, which makes sense because if you were a criminal, probably the last thing you would want to hear at 2 AM in a shadowy alley would be giggling from the shadows. That would be seriously creepy.
Basically, the Jester is the Joker if the Joker were a hero rather than a villain. And also not (too) crazy.
DC got the Jester along with the rest of the Quality Comics properties, but have barely touched him. With one major exception – a guest shot in Starman #46, where James Robinson basically let the Jester do his crazyfied schtick in a teamup with Ted Knight – he's gone more or less unused. In a way it makes sense, because the Jester doesn't really work in a modern setting and DC isn't doing any titles like All-Star Squadron right now where they focus on a past historical era of superheroing. But it's still a shame nonetheless, because there's some real storytelling meat here.