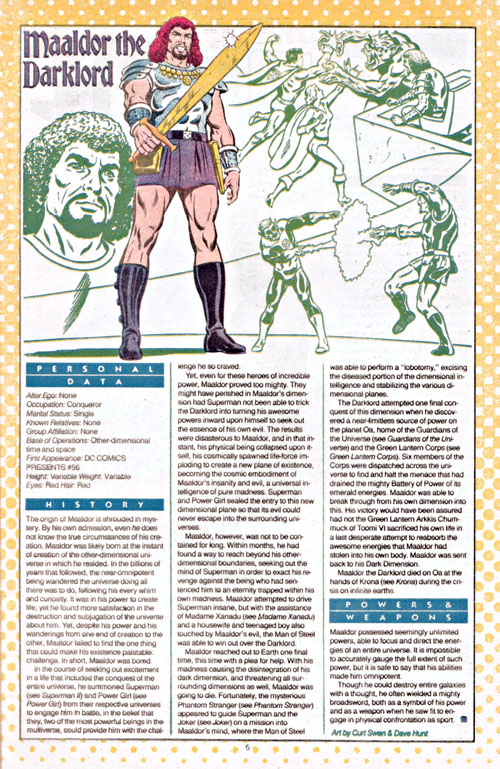 Some people like to point to that bit in Crisis On Infinite Earths where the Penguin is briefly depicted fighting Firestorm to a standstill as the "waitasec" moment of that series, but it's not mine. After all, the Penguin is a pretty smart dude and he has umbrellas that shoot people. Plus, Firestorm is traditionally a dumbass.
No, the "waitasec" moment of Crisis for me comes in #10, when Earth's villains attack Oa in the past to try and save it. (Long story.) In order to stop Krona from viewing the start of the universe and creating the multiverse by accident, the villains try to destroy his lab, and although most of them get conked out early on, three of them – the first Icicle, the first Mirror Master and Maaldor the Darklord – make it to the lab and are about to destroy it, but Krona kills them while they argue about who gets to smash his stuff. No, really.
Now, granted, the fact that he wears ancient-Roman-ish armour and wields a broadsword (and has a Jheri curl) might make him look like a bit of a low man on the totem pole. Heck, on the cover of his issue of Who's Who he's squaring off against Madame .44, who has the power of… two guns. But here's the thing: Maaldor the Darklord wields the entire power of an entire sub-universe. His Who's Who entry says he is basically omnipotent and that he can "destroy entire galaxies with a thought." He fought the entire Green Lantern Corps to a standstill more than once.
Basically, he shouldn't have gotten punked like that.
And here's the other thing: Maaldor is kind of awesome in a low-rent B-list Vartox sort of way. He's a full-on godly being who speaks of himself exclusively in the third person (like the Rock!) and hits people with a sword because he can, not because he needs to. He just like slashing people with a sword. It's how he chills out.
That is a universe-powered being who knows what he likes. He's due for a comeback.