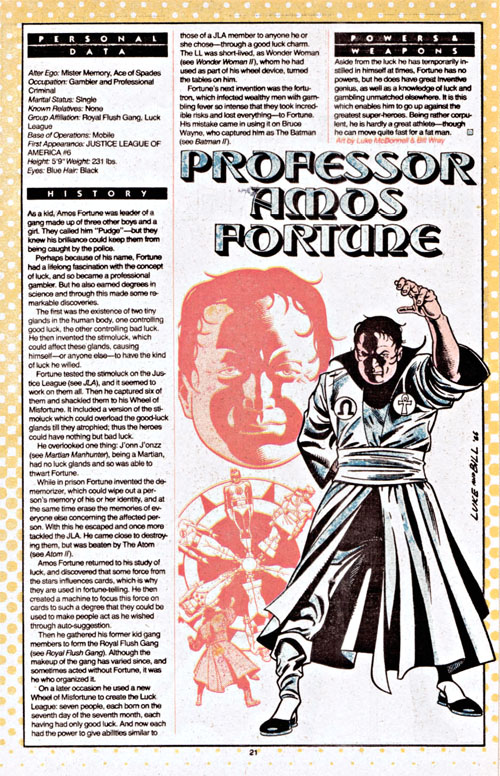 Amos Fortune is a relic of a bygone age. It's why people still have affection for the character. It's also why he sucks.
The reason people still like Amos Fortune is because he's got a very Silver-Agey quality to him. He's an evil scientist obsessed with luck: there you go, Silver Age smacked up all over him. His evil robes can look quite distinctive when handled by the proper artist, and just because he's not Lex Luthor doesn't mean there isn't room for him as a lesser scientist villain; there will always be room for the Mad Thinkers and IQs of the comics world, and so is there room for Amos Fortune.
This is not why Amos Fortune sucks. Amos Fortune sucks because rather than sticking with him being a master of evil luck-themed science, comic writers of the time used him in the other way emblematic of the Silver Age: as a catchall excuse for whatever mad science plot they felt like writing in any given issue. This is why Amos Fortune, the mad scientist obsessed with luck, invented a "de-memorizer" that could wipe out people's memories: because. This is why Amos Fortune invented a "fortutron" which made people obsessed with gambling so they would lose all their money to him: because. And let's not get started on the "Luck League," wherein seven born-lucky people were given facsimiles of JLA members' powers because… um… luck? This was just one of many stories where "luck" was a throwaway explanation for whatever the writer (usually Gardner Fox) felt like doing that month.
On top of that, Amos Fortune invented the Royal Flush Gang, who, like it or not, have staying power as a concept in the DC Universe. This effectively makes Amos Fortune the Pete Best of the DCU, except of course that the Royal Flush Gang aren't exactly the Beatles of the DCU, so you need to find someone a little less impressive than Pete Best to analogize to Amos Fortune. Music nerds can do bit that for me. I'm sure you can find somebody appropriate who walked out on a third-tier band before they had a few hit records. Who was the guy who created, say, Boston and then quit before they hit it big? Amos Fortune is that guy.
Amos Fortune still makes the occasional appearance in modern DC comics, usually because Len Wein (who loves the character for reasons I'm sure I couldn't explain if I tried) wants to use him in a story. In these comics, he's always a behind-the-scenes mastermind, which also doesn't work because Amos Fortune, while ideally suited to being a behind-the-scenes mastermind, has never been that guy. You don't get fancy luck-themed robes if you want to be the guy working the levers on the Great and Powerful Oz.
Now, there's certainly potential in Amos Fortune, even now. Probability is an interesting, amazing thing, and you can do really clever things with it as a villain if your writer is more ambitious than writing third-rate Black Cat stories. I'd really like to see somebody write those stories someday. But until then, Amos Fortune will always suck, because he's just another megalomaniacal dude in some robes who makes shit, and that makes him kind of boring.