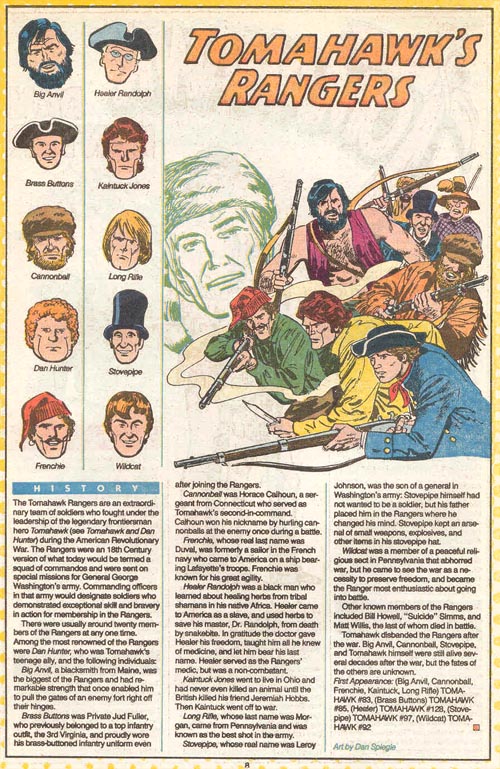 Meet Tomahawk's Rangers!
Dan Hunter: Tomahawk's sidekick and former man-boy life partner (seriously, one day I'll post the Tomahawk and Dan Hunter entry from Who's Who and you will al go eeeewwwwwwww) found himself dumped after he got old and chunky (look at the jowls on him, no wonder Tomahawk lost interest), so he found himself leading an elite unit of… guys!
Big Anvil: He's strong! He once lifted a gate off its hinges! He's got a beard! He wears a purple vest! Did we mention he's strong? Because he's strong!
Brass Buttons: This is a guy who came from a uniformed regiment and was so proud of the fact that he refused to take off his uniform even when he was in a band of guerrilla warriors. You can't really ask questions about a guy who was in a top infantry regiment and then somehow got transferred to Tomahawk's Band Of Unwashed Crazies; it wouldn't be polite. Besides, the way he shined those buttons all the time was kind of creepy. Did anybody actually see this guy come from the regiment? Or did he just show up one day? Man, somebody ought to check that uniform for bloodstains or knife-stabbin' holes.
Cannonball: Not the X-Man, but a guy who threw cannonballs at the enemy. Presumably there was no cannon working at the time. Or maybe there was. I mean, you can just see this guy throwing cannonballs, and there's this other guy standing right next to him with the thingy that stuffs the cannon that looks like a giant Q-tip saying, "Uh, Horace, we're just supposed to put the cannonballs in the cannon. That's what they taught us in cannon school. I mean, look, the enemy's still over two hundred feet away. Maybe we should fire the cannonballs with the cannon." But Horace is all YARRRRRRRRGH TAKE THAT YOU BRITISH FUCKS and shortly thereafter he finds himself in Tomahawk's Rangers.
Frenchie: A Frenchman! Who dresses like a Quebecois lumberjack! That makes him twice as French as anybody else on the planet! He grew up in a tiny French town and decided that it was just not French enough! Also, he is known for being agile – because he trained as a mime before learning to use his mimery to kill in the most singularly French way possible!
Healer Randolph: The amazing black man who is not actually black! Seriously, look at that dude. It must have been confusing when he was on the plantation. He'd be all "Can I help you, Master Johnstone?" And the visiting plantation owner from upstate would be all "WhaaaaAAAAAAA?" And then there would be a sitcom moment as everybody laughed and waited for his catchphrase, "No, actually I'm a slave, sir." (Also, note that Healer Randolph was the only non-combatant in the Rangers. Typical that they didn't want the black man having a gun. Didn't they see The Patriot?)
Kaintuck Jones: Lived in northern Ohio all his life and still insisted on being called "Kaintuck." His other nickname was "Dumbass Jones."
Long Rifle: Actually just an excuse for the writers to come up with a strings of penis jokes.
Stovepipe: Kept explosives in his stovepipe hat. No, really. He did this. He decided that the best place to carry explosives was right on top of his head. And here's the thing: Stovepipe survived the war! Lots of other Rangers all bought it (although, apparently, not "Suicide" Simms, who was particularly ill-named unless it was one of those things where you call the big fat guy "Tiny" or "Slim" because that's funny) but Stovepipe, who spent just about every moment of every day courting death in the stupidest way possible, made it through unscathed. Fate is indeed a fickle bitch.
Wildcat: Was a Quaker and a pacifist until he went to war and found out that shooting people to death and stabbing them with bayonets and knives and occasionally spears or just, like, hitting them until they stop moving, and then staring at the red, red blood all over your hands – that is seriously like the most awesome thing ever! Occasionally wrote letters home that said things like Dear Mother and Father: Today I garrotted a Welsh-man who spied upon our camp. I believe I saw God in that moment.