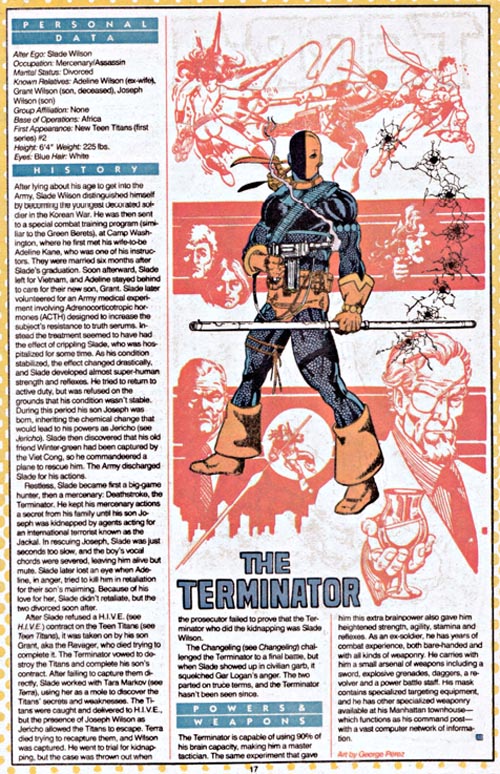 Hey, do you remember when you liked Deathstroke? I do. He showed up every once in a while, was incomparably badass, and then disappeared for a bit. And that was good. Why can't we have that?
After all, Deathstroke's core concept is one that doesn't really lend itself to extended storytelling (which is one of the reasons his series was so lackluster, run for 65 issues though it did). He's an ultracompetent mercenary. Up until about five or six years ago Deathstroke didn't really want anything in the sense of having a grand purpose in life; he was just a guy who did his (extremely violent) thing for a lot of money, and that was basically enough for him. A character like this is reactionary at best: he doesn't start or initiate plots because he doesn't really feel the need to bother doing things like that, but he's got enough substance that he's not just a boring device either. Sure, Baddie With His Own Distinct Moral Code is a well-worn suit at this point, but it still works well enough that Deathstroke can be more than a gun on legs; he can be an antagonist with the ability to shift to ally when necessary. And that's fine. He shows up every so often, beats the shit out of somebody, and fades back into the shadows in his costume which shouldn't work but somehow does nonetheless.
About five or six years ago, though, Deathstroke got promoted, for reasons I will never quite understand (although somebody probably said "hey he's awesome, let's use him more than ever"). Now Deathstroke is one of the movers and shakers in the DC underworld, for reasons nobody really ever explained. I mean, it's not like he likes any of the other villains or feels cameraderie with them; his sense of superiority, if nothing else, has remained intact. But now, rather than just being an ultracompetent mercenary, he's been turned into an evil equivalent of Batman. He's always three steps ahead, he's always got two or three plans in motion, he's of course completely deadly and able to beat up Green Lanterns and Flashes whenever he wants even if it doesn't make sense (and fetishizing the "perfect human" concept is so much a Batman thing it doesn't even need to be said, really).
But he's not just evil Batman, because in his near-constant exposure since he got shoved up the ranks, he's demonstrated that he's actually an insane supervillain in the old-school style. Leadership in the Secret Society. Multiple plots to destroy the Teen Titans. A yearlong feud with Green Arrow (which he managed to lose, because Green Arrow decided to become a swordmaster in three months or something stupid like that). Most of it has been very stupid, and a lot of it has been retconned by writers to try and make it work with the "old" model for Deathstroke by saying that he only did all this shit to make his surviving children stronger, which smacks of desperation. (This assumes that anybody wants Jericho to be stronger. Jericho's best moment, before he came back, was when he was an insane supervillain and Deathstroke stabbed him to death. Why don't they do that again? Really, it's the only argument for bringing Jericho and his whiteboy afro back: it's so good seeing him get run through with a sword.)
And, of course, now he has his own villain team (well, another one), and he's killed Ryan Choi for some reason, and Arsenal (ugh) will be on it. And of course, once again he's got an extended master plan. Why does he have an extended master plan? Why does he need one? He's rich and can do whatever the fuck he wants. Why does he have to be more overexposed than the fucking Joker? DC cancelled his series for a reason: he's not a good protagonist. Why give him another one and stuff it with reject characters nobody cares about – I'm looking at you, new Tattooed Man – so we can get what will either be a terrible story arc that makes no sense or rendition #485 of "I have to do terrible things to test my children/make sure my children are safe"? Why not just let him sit in the background for a year or two and then let him come back and kick some ass for a brief period and have everybody be all WHOA?
(Ironically, his recent use in Batman and Robin made total sense and worked with the traditional version of the character; it's very Deathstroke to take a job to fight Dick Grayson just because.)