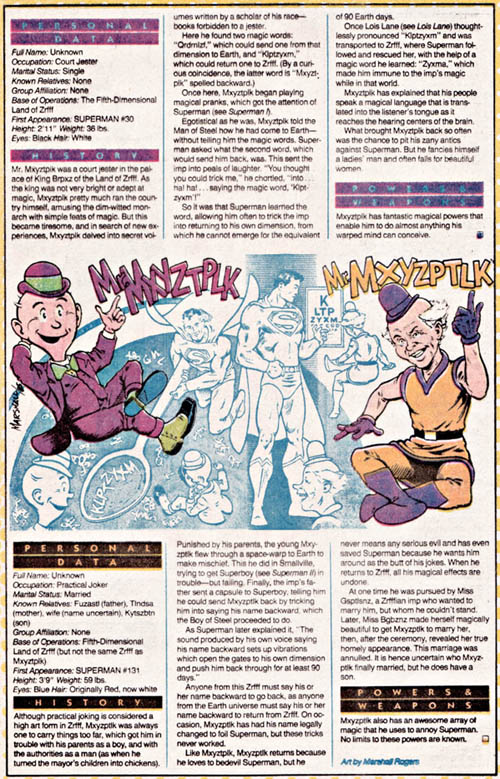 Mr. Mxyzptlk is a great character because he effectively inverts the entire Superman storytelling model.
Superman stories are in many ways about God. Superman can be capricious (as he often was with his tricks in the Silver Age). Superman can be merciful. Superman can be compassionate. Of course the Superman-as-God metaphor has been stretched awfully thin at this point so I won't go into further detail on that score, but you get the point: most Superman stories are about a being more powerful than humanity ever can be.
And then Mxyzptlk comes along and now Superman isn't squat. This is because while Superman is a dandy metaphor for God, Mxyzptlk, for all practical intents and purposes, is God. Mxyzptlk can't be beaten, stopped or destroyed; he only goes away when you satisfy the rule he made up on a whim. And, like God, he's basically unknowable; you can see aspects of Mxyzptlk but never the whole.
There's Chubby Purple Bowler Hat Mzyzptlk, who's probably the nicest and kindest version in the "trickster god as secret friend of humanity" model (and indeed that version of Mxyzptlk claimed to have been Anansi, Coyote and Loki). There's Skinny Orange Skirt Mxyzptlk, who's meaner, nastier, and inevitably self-impressed with his own schtick; where Chubby Bowler Hat will show up as often to help as much as play, Skinny Orange Skirt isn't really interested in helping anybody. For a brief streak there was that version of Mxyzptlk that was an extremely evil and nasty pair of twins (which instantly reminded everybody that Alan Moore had a very terrifying point when he suggested that Evil Mxyzptlk would be the greatest of all Superman foes).
(The fact that Mxyzptlk is a good character for postmodern commentary on the story he's appearing in is, if anything, a bit of a crutch at this point: it was cute to have Mxy chat with DC editorial once or twice, but at this point when you've got Mxyzptlk, Animal Man, Deadpool, the Joker, Squirrel Girl and god knows how many other characters all knowing they're inside a comic book it gets old fast.)
And as has been demonstrated on other levels, Mxy works as a foil for just about any character. He's best for Superman, of course, because of how he turns Superman stories inside out. But "placating a capricious god who will happily cause you to lose whatever dignity you might possess" is a story that works for anybody.1
You don't want to overload on Mxy. He's best in small doses, every once in a while, and he should never again be used as a prop to make somebody else look scarier. ("Emperor Joker" was enough, but then DC decided to let Superboy Prime beat up Mxy to get additional superpowers for some reason and that was just one more reason that Countdown was the worst thing DC has ever published.) You can't downplay God if you want him to have full impact when he does show up, after all.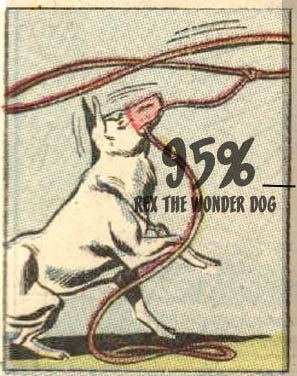 (Seriously, though, bring back the twins aspect. They were scary as hell.))
Granted, Batman works better with Bat-Mite because Batman loses his dignity much faster with a super-fan rather than a super-foe, but that's just tailoring. [↩]