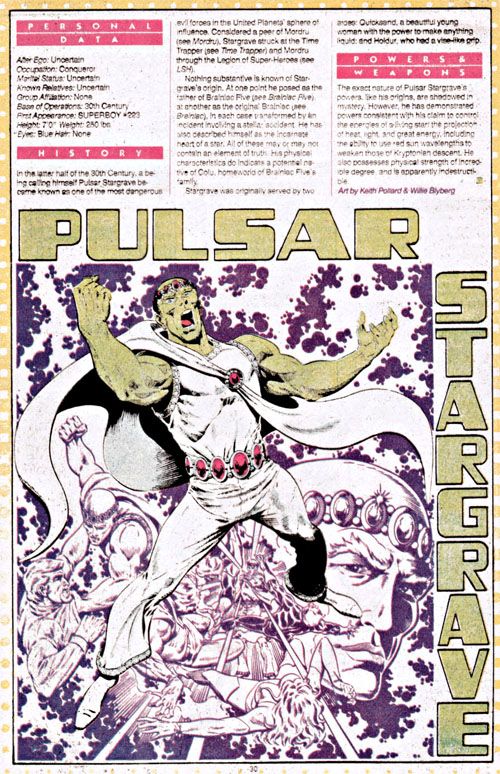 Pulsar Stargrave has always been, to me, one of the criminally underused ideas in Legion history, for a few reasons. He has an awesome name, for starters. He's got a great look, too: a neo-Roman togacape, dressed in imperial white, give the impression of someone who knows he's in charge but it's stripped down enough that you know he can rumble if he wants to do so. And, of course, he's green, which lets you have an ambiguous tie to Colu and/or Brainiac Five if you want (and you should).
Of course the net result of all this is that Pulsar Stargrave has barely been touched. He's been used barely at all – and one of those times was in the Legion of Substitute Heroes one-shot where he was more or less just played for laughs by Keith Giffen as a generic Big Bad suitable for antagonizing against Matter-Eater Lad.1 On top of that, his powers are vague in all the wrong ways. He's Generic 70s Cosmic Baddie and he doesn't have to be.
I think there's a lot of potential here that hasn't been tapped. You can make Pulsar Stargrave Brainiac 7, for example, a Brainiac from the future come to conquer easier temporal targets. Or make him the Anti-Matter Universe's equivalent of Brainiac 5 – the logical endpoint of what would happen if the smartest person in the universe was completely amoral, self-interested, and power-hungry. (You could also give him an evil goatee that way, and don't think for a second that this wouldn't be completely awesome.) The point is that right now Pulsar Stargrave is just waiting for a good idea to show up and use him as its vehicle, and he would make an awesome vehicle in that respect.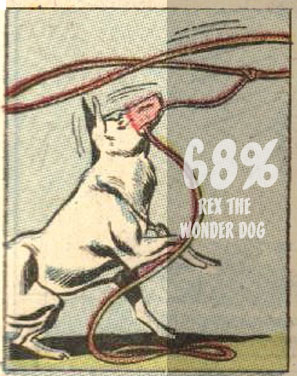 Did he show up in R.E.B.E.L.S. recently? Did I imagine that? I'm not sure. [↩]