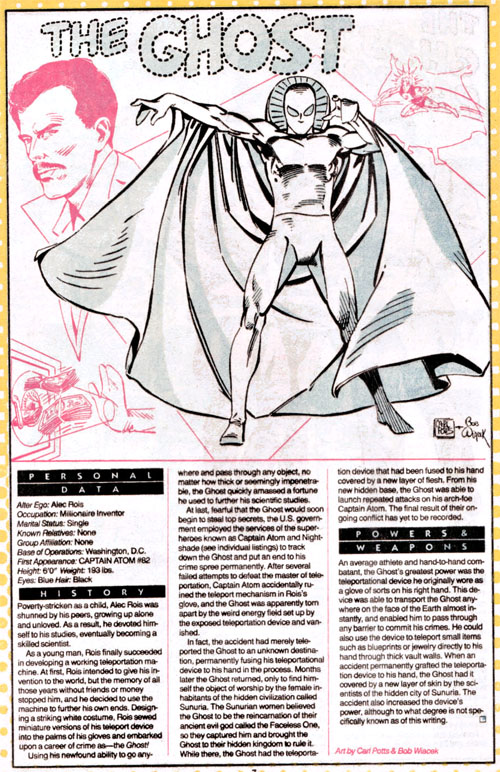 Ghost has become a reasonably popular supporting characters in superhero comics over the past few years. Unfortunately for this Ghost, I'm talking about Marvel's Ghost, the Iron Man villain and Thunderbolt. DC's Ghost, on the other hand, languishes in relative obscurity.
Which is a pity because in a lot of ways they're the same character: scientist/engineer invents phasing thingy, uses it to steal stuff, attracts ire of Forces of Status Quo (Iron Man/Captain Atom), feud ensues. Of course, Marvel Ghost arrived later and with a more inspired creative team (the classic Michelinie/Layton run on Iron Man, versus later Steve Ditko during his Charlton run – and not everything could be Blue Beetle or the Question, frankly, which is one of the reasons Captain Atom has always been the Michael Biehn of superheroes), which made a lot of difference; his gradual shift of emphasis from thief to anticorporate terrorist has helped rejuvenate the character and make him more relevant.
DC Ghost, in comparison, has languished as part of DC's back catalog. You can almost see the ticket he's holding in his hand that says "due to be killed off by another supervillain who needs to look badass, 2014." Because these days that is just how DC rolls; there won't be any attempt to use the character because someone like Ghost is just a costume to passed from nameless baddy to nameless baddy, like Black Spider or Hyena. It's a stylistic choice, and not an indefensible one (after all, if you want your story to focus on a hero and his life, the villain can literally be just an empty mask), but I'm not going to pretend I'm fond of the approach.