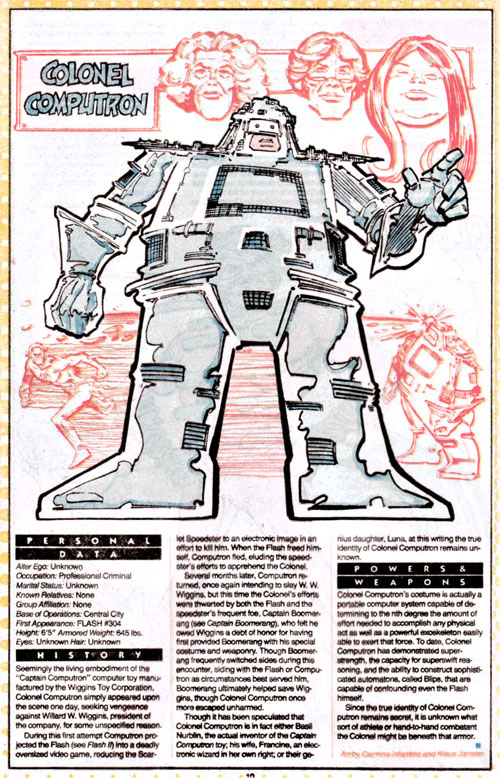 Hoo boy.
You know that Colonel Computron dates back to a certain time: that brief moment of about five or six years when computers were both becoming increasingly familiar to the general public, but were still basically considered to be magic. His computer-suit gives him super-strength and super-intelligence because computers can do anything!
Plus, he looks godawful. Carmine Infantino was always the Silver Age artist who felt like he wanted to start the Golden Age over again: just look at his character designs. Other than the modern Flash costume, they are mostly terrible: either garish and ridiculous (Trickster, Pied Piper, Top, Rainbow Raider) or minimalist and dull (Heat Wave, Weather Wizard, Mirror Master). He only hit the sweet spot occasionally, with Captain Cold or Abra Kadabra, and Colonel Computron is far, far away from the sweet spot; on the page he manages to be just a big boring barely-articulated silver suit.
Of course, this means that, being a pathetic lame villain best relegated to the backbins of comic history, Colonel Computron was brought back multiple times, although eventually they just started calling him "Computron" because, I don't know, maybe that was less pathetic if you looked at it the right way. I'm pretty sure he got killed off in an issue of Checkmate. I'm sure that made the comic FIVE TIMES AS THRILLING.