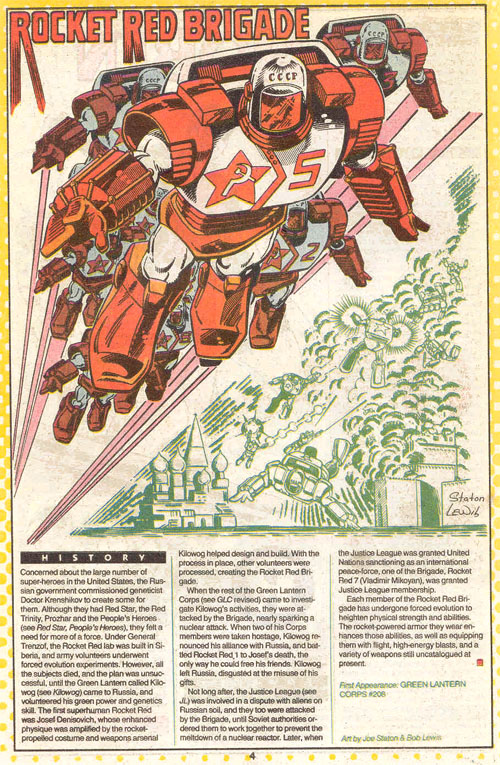 I have always loved the Rocket Reds, and the reason is simple: they are the Barry Horowitz of the DC Universe.
Barry Horowitz, for those not in the know, was a professional wrestler and probably the last truly great jobber – the designated loser, the one who showed up to get his ass kicked by the up-and-coming star or the veteran needing the easy win to re-establish himself. He jobbed out for twenty years in the WWF before it became the WWE, and he was a master at not only making his opponents look good at kicking his ass, but at getting the crowd to love it when they kicked his ass. Barry Horowitz with his trademark self-pat-on-the-back, always entirely undeserved and always pointedly obnoxious, who always got pinned. Of course, over time the crowds came to love Horowitz, because you had to recognize skill when you see it, which eventually led to the "HOROWITZ WINS!" angle, wherein he finally managed a win and the crowd went nuts.
Which brings me back to the Rocket Reds. It's worth remembering that the Rocket Reds were, for the most part, not a very pleasant bunch when they first arrived: Rocket Red #7 – the "classic" Rocket Red we all remember from the Giffen/DeMatteis Justice League – was an exception to the rule. Most of the Rocket Reds were portrayed as clueless peons of an oppressive regime. And so they remained… until they weren't that any more, because dammit, there is something likeable about the Rocket Reds. The Rocket Reds somehow have become something like the Russian ideal of a superhero – soldiers rather than vigilantes, sense of duty to the state, predilection for getting their ass kicked but in a stoic, we'll-wear-you-down-eventually sort of way. In the Villains United special during Infinite Crisis, which was really the high point of the whole misguided exercise, Gail Simone has former Rocket Reds busting into their old armory to suit up in Rocket Red armor to go fight the army of villains, all the while chatting calmly about how this will most likely get them killed, and the humour of the scene just feels very grimly Russian in a way that's very essential.
Nowadays the Rocket Reds are more or less a required element whenever one does a DC comic that might involve Russia. It's almost impossible for there not to be Rocket Reds – it would be like going to Gorilla City and not having sentient gorillas. (If and when Batman ever goes to hire the Batman of Moscow, that Russian Batman should be a former Rocket Red.) Because the Rocket Reds might be the guys who get their asses kicked so the real heroes can look good – but they've got such a great way of getting their asses kicked that you can't but help rooting for them.