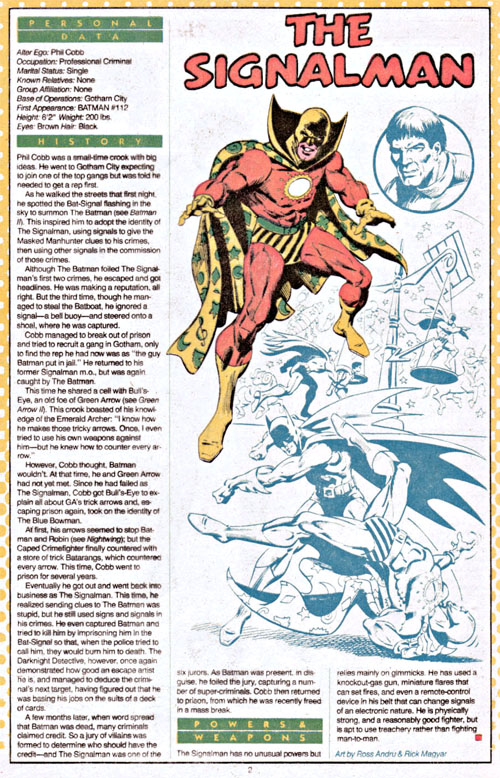 My first encounter with Signalman came in an issue of Justice League of America I read when I was about five – specifically a two-parter where he was part of the Ultra-Humanite's Secret Society of Super-Villains. (This was one of the periodic JLA/JSA teamups which were so awesome at the time and which modern-day comics writers try to duplicate, not understanding that once the JLA and JSA are basically neighbours the idea of the JLA/JSA teamup loses a lot of its cachet.) In this story, he beat up Batman. Batman. (In the same issue the Monocle beat up Hawkman, which was awesome.) And the way Signalman beat Batman was brilliant: he hypnotized a crowd of innocents and let them beat up Batman, using Batman's unwillingness to harm innocents against him in a sort of Bronze Age-version of Bane using Batman's own dedication against him. Clearly this was a major player!
Imagine my disappointment years later when I did some checking up and found out that Signalman was a Golden Age chump of a bad guy who wasn't anywhere near as awesome-looking when George Perez wasn't drawing him and who was basically a lesser equivalent of the Riddler, except worse because the Riddler's riddles were usually at least reasonably difficult whereas Signalman's were just stupid. And let's be honest, at least the Riddler has a sense of style: he wears nice suits. Signalman wears fugly red-and-yellow tights, with diagonally striped underwears, and a cowled cape with "signals" all over it.
And Signalman finally figured out that warning Batman ahead of time that you were going to commit a crime was stupid, what did he do? He adopted a new identity: the Blue Bowman. And then he tried to beat Green Arrow at super-archery. What the hell, Signalman. What the hell.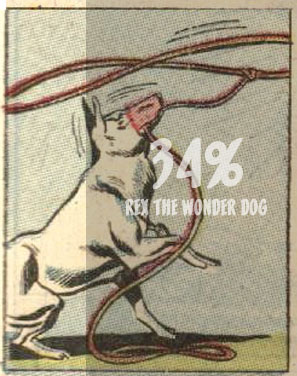 A rating earned mostly by the time George Perez drew him and he was briefly kind of awesome.