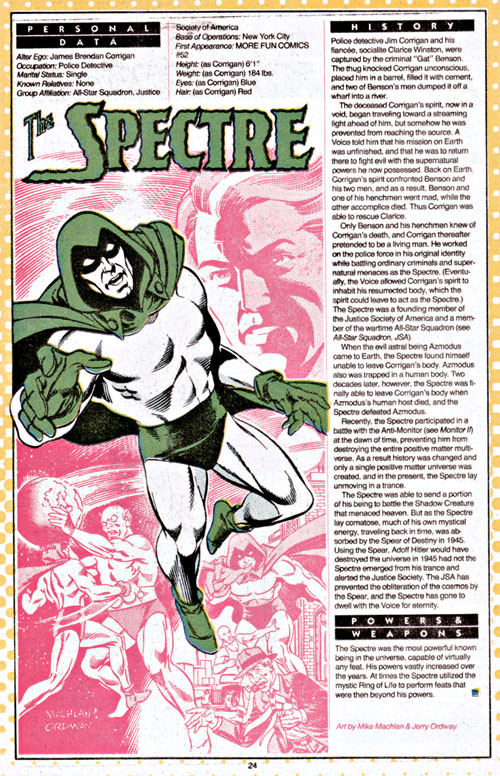 The problem with the Spectre is that he is shackled down by continuity.
This wasn't how it used to be. It used to be that the Spectre was sort of awesome because you could do anything you wanted to do with him. Gardner Fox and Murphy Anderson had him fight demon lords using whole planets as weapons and travel through time to fight pirate ghosts in a dozen reincarnations. Neal Adams kept that high adventure, but started telling stories where the Spectre fought more horrific evils. Michael Fleisher and Jim Aparo had him straight-up murdering criminals in cruel ways and telling pure horror stories. Doug Moench made him an occult detective again. John Ostrander went to the Christian theology well, again and again. Not for nothing in The Books of Magic does John Constantine snark about how the Spectre's power levels change all the time.
But it's that Ostrander run that nailed things in. Prior to the Ostrander run, what the Spectre did and was – these were flexible and mutable things. He was a ghost. No, he was a spirit possessing a dead man. No, he was a spirit working in context with a dead man. No, he was all of that at the same time. However, Ostrander's take – that the Spectre was God's Angel of Vengeance possessing a dead human as its avatar – has become the standard.
The problem is that Ostrander's Spectre worked wonderfully for Ostrander because Ostrander wanted to write a specific set of stories about human belief and the inherent problems that the idea of a vengeful God poses with Christian dogma. That was great when he was playing off in his own corner of the DC Universe and just letting everybody else do their thing. It's not so great when his rules for the Spectre have become unbending canon because the Ostrander Spectre is ridiculously powerful and becomes an obstacle or menace rather than a character when used by writers not as skilled as Ostrander, which is to say most people.
And this is disappointing because there's no reason one should feel constrained to keep doing with the Spectre what Ostrander did. After all, one of Ostrander's plot points was that the Spectre replaced Eclipso as the Angel of Vengeance, which is a reminder that God is basically arbitrary from a mortal standpoint. You can take that as far as you want. Any writer working on a Spectre comic should feel completely empowered to do anything they want to the Spectre and just say "well, because God did it." Hell, bring back Percival Popp the Super-Cop if you like. All that should be a Spectre writer's goal is to avoid doing rehashed Ostrander stories, because you can't really improve on them.
(And although I like Crispus Allen as a character, the Spectre looks stupid with a goatee.)