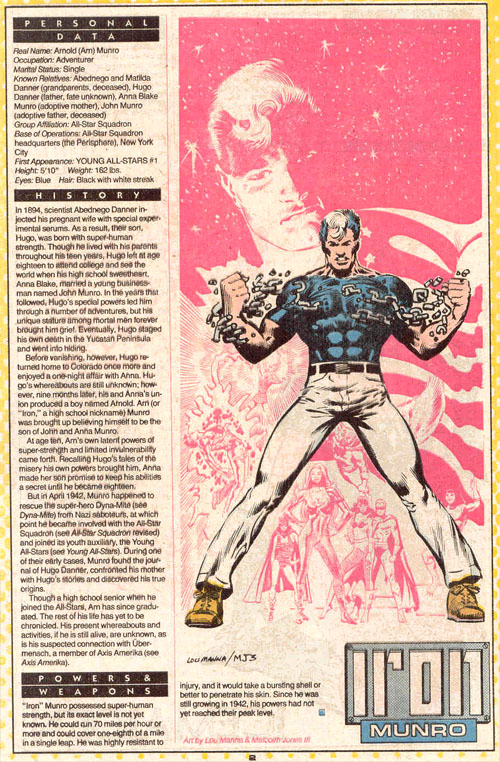 When Crisis on Infinite Earths happened, one of its effects was that the Golden Age versions of Superman, Batman and Wonder Woman were no longer available for membership in the All-Star Squadron, which was at the time still an important and going concern as a comics property. DC's solution was to relaunch All-Star Squadron as The Young All-Stars, creating a subteam of youth characters within the All-Star Squadron which would feature their new replacements for the Golden Age trinity: Fury for Wonder Woman, Flying Fox for Batman and "Iron" Munro for Superman.
This didn't work all that well. In retrospect, there was the problem that if these three characters were intended to replace Superman, Batman and Wonder Woman, putting them on an 1940s version of the Teen Titans probably wasn't the way to go about doing that. After all, several definitive All-Star Squadron stories – most importantly "The Ultra War," which is probably the greatest of all Squadron stories and the one where the Golden Age Superman's feud with the Ultra-Humanite is absolutely central to the plot – rely on the presence of the big three, so having a "new trinity" that doesn't address the continuity problemss of removing the "old trinity" became a headache, not least because Roy Thomas was writing this and whenever Roy Thomas couldn't address a continuity problem in a comic he was writing, he got cranky.
But it also didn't work because the replacement characters were problematic. Flying Fox was not bad at all. Fury was kind of a mess. "Iron" Munro, meanwhile, fell in somewhere between the two. The character has a simple and appealing visual design to him – the superhero costume as stripped down to tight shirt and pair of pants, twenty years before anybody thought that Superboy should wear jeans, and in some ways a callback to Doc Savage. (e.g. this cover.) It's pulpy, in the ways that pulp is good.
But he never really integrated within the fabric of the DCU WW2 setting in a way that felt organic, much in the way that the All-Star Squadron never really did post-Crisis. (Really, the franchise was dealt a serious blow by Crisis, forced to re-imagine itself somewhat, and never recovered from it. You will note that up until the nu52, references to the Golden Age since Crisis are almost always about the Justice Society rather than the Squadron, to the point that the Johnny Quicks and Robotmen of the world are often referred to as Society members.) This wasn't for lack of trying: "Iron" Munro was revealed to be Damage's father, was referenced by Superman as being Clark's idol when he was a kid – but it always came across as minor elements of DC saying "hey, you should really care about this guy!" rather than making people really care about him.
Which is a bit of a shame, because I still think the character has a visual flair to him that could really work. But he doesn't. Not yet.