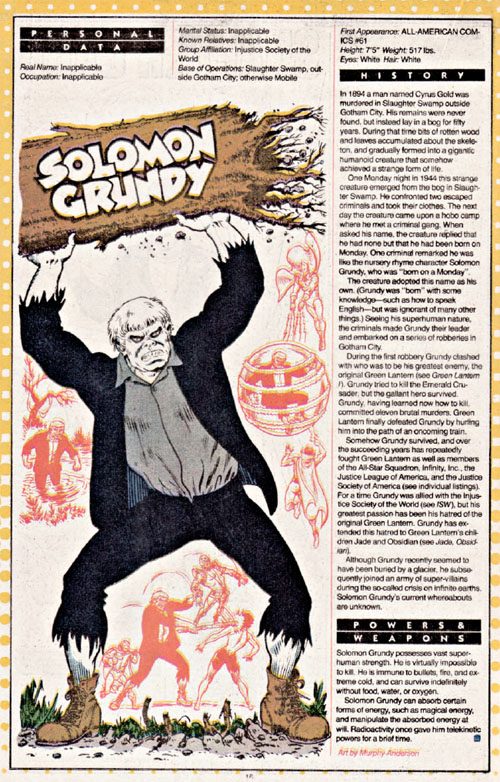 I'm not actually reading DC Comics any more – the combination of moral ickiness re: Alan Moore and the new comics just mostly being shit is enough for them not to get my comics dollars any more, beyond a few collections. The final Hitman trade paperback is due out in August and I believe that will be the last DC comic I purchase for the foreseeable future, because I pretty much own all the stuff I will ever want from DC ever, because they were good enough to have produced pretty much all of it years and years ago. Maybe they will do some deluxe Legion reprints of the Giffbaum era at some point and I will buy those.1
But someone handed me the first three issues of Earth 2 last week, and – well, they're shitty comics, of course. I mean, it's great that they're setting up Alan Scott as basically Earth-2's Superman equivalent, except he's gay. But all this means, in practice, is that they replace a woman in a refrigerator with a gay lover on an exploding train; that the comic is slightly more progressive doesn't make it not-shitty. It's just a non-shitty note in a shitty comic. But the Nu52 version of Solomon Grundy shows up at the end of the third issue, and it is basically a microcosm of everything I now hate about DC Comics.
The new Solomon Grundy appears to be some sort of avatar of death – he bears an irritating resemblance to the revamped design of Necron that showed up in Blackest Night, with leather bondage straps and skirt-trousers and things like that (and has it really been over two years since that awful, no-good crossover finally ended? It seems like it was just yesterday that its unflagging shittiness was new to us). He is an avatar of death because Earth-2's Green Lantern is, sort of, an avatar of life.
This is stupid. This is bad everything-is-connected comics writing. It's all the more startling coming from James Robinson, who wrote a damn good Solomon Grundy when he used Grundy in Starman, but what every comics writer seems to be saying these days is that DC comics are basically written by the editorial staff now, because god forbid they trust some hack like George Perez or John Rozum to write a damn superhero comic book. But regardless of who is actually writing this, it is bad, because Solomon Grundy is not an avatar of death. Nobody wants to read about Solomon Grundy being an avatar of death. What people want out of Solomon Grundy being in a comic is for him to be, when you get right down to it, a off-brand version of the Hulk who is usually a bad guy.
Seriously, this shit isn't hard. Solomon Grundy is a copy of the Hulk that lets DC Comics write the Hulk into stories without having to negotiate anything with Marvel. That's the entire fucking point of the character. He can be a vicious cunning Hulk (like in the Golden Age stories where he first showed up) or he can be a dumb savage Hulk (like he was in The Long Halloween), or he can be a gentle cute and cuddly Hulk (like in Starman). But that's who he is. That's who the fans expect him to be. There's no reason to try and tie him into the rest of your superhero universe's pre-determined theory; really, if you're writing a superhero universe and everything ties back to one central origin element for everybody, you're probably doing something wrong.2 If you try to write Grundy as being anything else, you just wasting paper and ink on your own lousy concept.
I mean, it's not like anybody was going to think Mr. Avatar of Death was an awesome idea if you called him "Death-O" or something.3 That's how you know it's a shitty idea: whenever DC knows an idea is shitty, they grab one of their existing intellectual properties from the Not Bein' Used Trunk4 and awkwardly slap it onto the shitty idea in the hopes that fanboys will say "oh, it's the new version of [NAME], I loved the old version, let's give this a try." Granted, they do this whenever they think they have a good idea too, because, well, DC Comics. But it's more egregious when it's something like this – when not two years ago DC put out a nigh-unreadable Solomon Grundy miniseries that tried to incorporate Grundy into the larger DC comics mythos and which was a horrible creative misfire, and now they're doing it again but even moreso.
The bottom line is this: Grundy works best when you keep him simple. He's a sorta-undead sorta-plantman Hulk. You don't have to explain it any more than that. You don't buy a comic with Solomon Grundy in it because you want a deep plot about Grundy's origin or motivations. You buy a comic with Solomon Grundy in it because you want to see him punch the good guy in the face and then get punched in the face by the good guy (or something along those lines). The fact that DC no longer seems to understand this is a large part of why I – a DC fan since I was six – no longer buy their comics.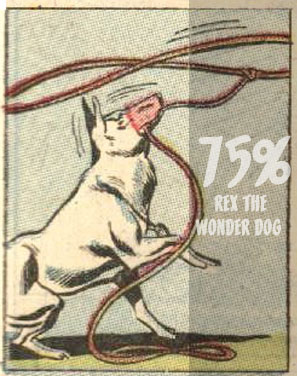 STRICTLY FOR CLASSIC GRUNDY.