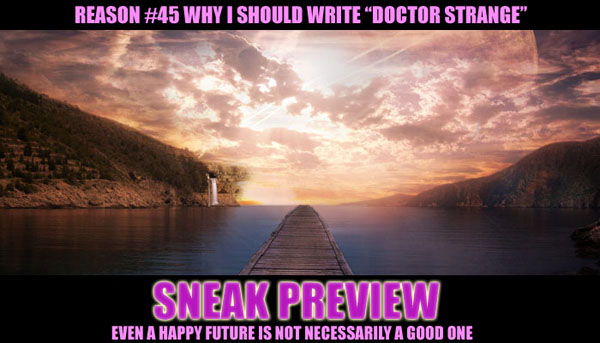 Sorcerers Supreme, as a rule, do not retire. "Defender of all reality" is not a job that is particularly conducive to packing it all in and moving to a condo in Florida, in the first place, because it has a remarkably high dying-on-the-job rate. People who become Sorcerers Supreme are disinclined to retire anyway; the sort of person who is right for the job never really stops being right for the job until they are disqualified from it by reason of end of life. (Even the ones who are total bastards. Especially the ones who are total bastards, really.)
Most Sorcerers Supreme, when you get right down to it, become Sorcerer Supreme because they were never truly meant to be anything else, and thus there isn't any point for them to not be Sorcerer Supreme; the acceptance of the job is simultaneously the acceptance of one's own mortality, along with a bit of general foreknowledge that it when it comes, it will probably be rather violent. In fact, there are no recorded instances of Sorcerers Supreme fully retiring to give the job to the next fellow in line. Even the Ancient One died in battle against Shuma-Gorath (he pretended to retire and give Stephen the job, but really he was taking care of many things his pupil wasn't yet ready to handle, much as a parent lets their child swim on their own while keeping their hands close by in case they need to rescue them from drowning).
Which is why it comes as such a surprise, during a particularly relaxing series of mediations, when Stephen Strange finds himself in the future. That bit of it isn't particularly surprising – the magical powers of the Vishanti which he has mastered do allow for time travel and one does occasionally wander, not unlike puttering through an engaging farmer's market and coming across a country cheese stand you have never seen, except instead of cheese it is time. (Which also helps with cheese, incidentally, but that is another thing entirely.) So finding himself in the future is not that odd. Even finding himself is not that odd. (At least, not to Stephen Strange.)
But what is odd is that Future Stephen is retired. And not Ancient One retired; for real retired. He gardens. He does his t'ai chi every day, to ward off the stiffness of old age. He does the odd bit of mystical consulting because once superheroes learn that they can ask you questions they never really stop doing it, even if nowadays it's Spider-Girl and American Dream asking the questions. He has tea twice a week with the new Sorcerer Supreme (whose identity he refuses to divulge: "look, when I realized who it was to be, I was distinctly surprised, and I think that was important"), and tells his protege about the importance of extra socks often.
He speaks with his daughter on the phone every day, and he dotes on his grandchildren.
All of this of course makes Current Stephen extremely suspicious, because he's not a damned idiot. Here Is Your Blissful Future is somewhere in the first half-dozen pages of every would-be conqueror's guide to sidelining a Sorcerer Supreme, after all, and he knows as well as anybody that his job doesn't really allow for this sort of future. At best, you get the satisfaction of having kept things from going to hell, and that has to be enough. But Current Stephen does test after test – he knows every possible way someone could fool his senses and he knows how to nullify or counter every single one of them. And every one comes up empty. For every test Current Stephen knows, and even a few he improvises, says the same thing: this is real, this is no trick, this is your beautiful house and your beautiful life, this is what you get.
And that is when Future Stephen – who, since he is Current Stephen plus time, is even harder to fool than Current Stephen – poses a question:
"If this is real – and let us assume for the moment that it is, since I think I am quite tangible – then we accept that this is unlikely. But it is also unlikely that you would see this for no reason. Which leads us to ask: who gains by having you come to this particular now? Are they your enemy, seeking to sideline you with the fear of potential? Are they mine, hoping to eliminate you in a future you cannot be prepared for? Or perhaps does someone wish to ensure that this particular iteration of your future never comes to be – or, indeed, definitely comes to be?"