Every Thursday, mightygodking.com returns to the pages of Who's Who, the classic 1980s DC comic book encyclopedia of their characters. Every week, a character shall be judged on the only scale scientific enough that matters: the Rex The Wonder Dog scale of fantasticosity.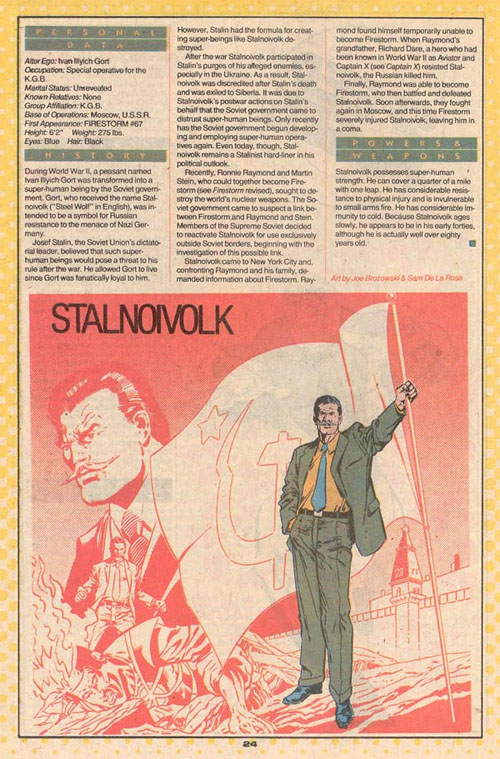 Okay, Stalnoivolk is pretty cool.
Why? Because he is a super-powered Stalin lookalike.
Now, admittedly, this is not quite as cool as a Russian graduate student with no powers who idolizes Stalin and uses Stalin's image to commit crimes, or the actual Stalin himself as a sorcerer fighting Black Magic Hitler. (And, curiously, with a bit of a speech impediment.) But Stalnoivolk is pretty damn cool, even if he is not at the apex of coolness.
I mean, he does all his supering in a nice suit. Don't we all often wish that more superheroes just did their jobs while wearing nice suits? After seeing a number of Marvel movies, you begin to appreciate that tights look kind of silly sometimes, and not everybody has to wear them. So let's give praise to Stalnoivolk for wearing a nice three-piece.
However, Stalnoivolk has also met up with Deadshot, and indeed been out-badassed by Mr. Floyd Lawton. While this is no great crime (after all, being out-badassed by Deadshot is pretty common, because Deadshot is totally badass), it does mean that when assessing Stalnoivolk's rating, we have to take into account that he is definitely below Deadshot's tier.
Thus: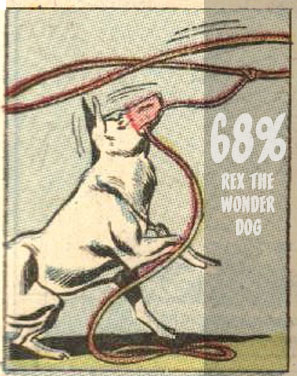 (Originally costed at 73%, but dropped five points because "Stalnoivolk" is really hard to spell.)