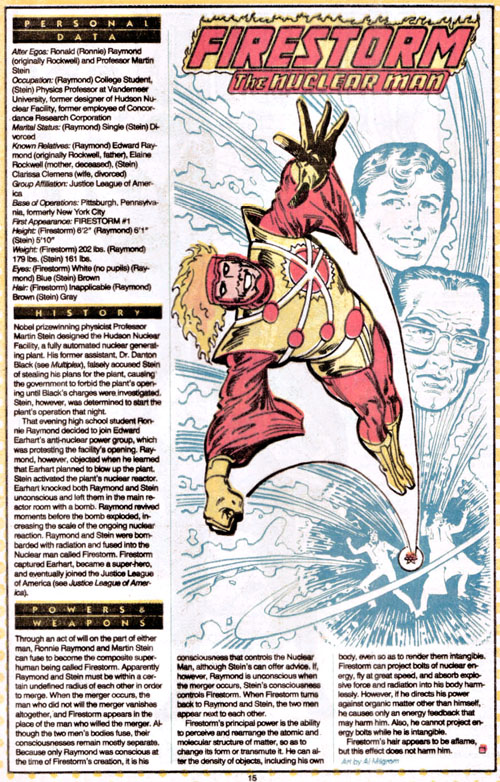 Firestorm suffers from a unique problem in comics, which is that he's too powerful.
This is actually a rare thing to have happen. People complain that Superman is too powerful, but Superman gets an out because he's Superman and his stories are often about the problems of being that powerful, particularly in relation to his friends and family, who aren't.
But Firestorm is actually more powerful than Superman in a lot of ways. He doesn't have the strength, but he's pretty tough (and can turn intangible and doesn't need to breathe and can absorb energy blasts); he's got blasty powers and he can transmute matter at will (the "no organic matter" clause has been revoked, I think, three times now). This last one, as I have argued previously, makes him basically a godlike being. Which is fine, because superheroes can be that thing –
– but not all of them. And this is Firestorm's problem: he is redundant, because he is designed to occupy the Superman slot in a universe where Superman already exists. Recall – as a way of demonstrating how this is the case – that in Superman Forever one of the Superman-analogues who comes along on the adventure is an alternate-universe Captain Atom who is basically a less immature Firestorm with a different costume.
It's not an accident that all of Firestorm's best character moments tend to come in stories where the really big guns have been taken out and he's the only one left (JLA: Obsidian Age) or where the stakes are so big that Firestorm's insane power level just makes him one of half-a-dozen godlike beings necessary to save the planet. (Crisis On Infinite Earths is the exemplar of this story type – and probably Firestorm's best moment as a character, since in that story he basically becomes the Spider-Man of the godlike superhero set and gets most of the really good lines. I think this, along with some of the early 80s Justice Leagues where the JLA was fighting really high-stakes battles, are the best comics Firestorm has ever been in – and his character in them also informed the later early development of Kyle Rayner as a character. But I digress.)
The other way out of the "too powerful" trap is to up the scale and use the character in cosmic stories – see Green Lantern or Thor, for example. But Firestorm isn't any good for this because he's too grounded, because Firestorm's weakness is that he's too stupid to use his powers effectively, because understanding the elemental composition of matter is actually tricky. (At least, this is the case of the Ronnie Raymond incarnation, who seems to be the pre-eminent version of the character – even though I would argue the Jason Rusch version is superior.) It's the sort of weakness that's simultaneously a really clever idea and a really bad idea, since it's original but also keeps Firestorm out of truly cosmic stories (because he's a dummy) and instead fighting useless twats like these.
At this point I think the character is effectively mired in the dogshit he's stuck in and needs a radical story revamp in order to be usable for the future, but that's me. Shame. It's an excellent costume.