People have been asking for this guy for approximately since I first started doing these Who's Who bits, and I feel it is only proper to reward patience (and give into repetitive begging). So: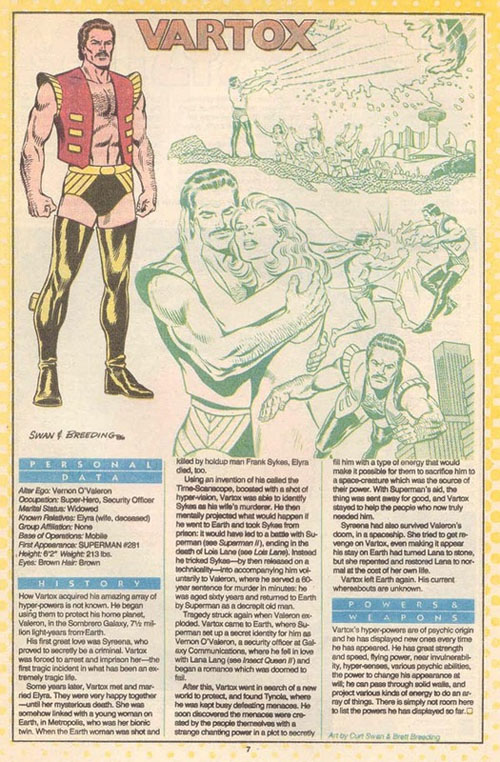 FIVE THINGS ABOUT VARTOX
ONE. Now, admittedly, at first one might look at Vartox' clothes and say "my god, this guy is gayer than all of the Village People combined." But that is unfair. Firstly, Vartox arrived in the Bronze Age, in the early 70s, a time when thigh-high leather boots, a Speedo and a vest with no shirt was the height of heterosexual male attire. Secondly, you have to be beyond manly to wear that with a completely straight face (and sexuality). Besides, Vartox is nothing if not serious about his fashion.
TWO. Vartox is powerful. He is really powerful. He had to be, because he was immediately established as a romantic rival for Superman, as he began a relationship with Lana Lang (whose affection for Superman was, it seems, matched only by her affection for Tom Selleck moustaches). Vartox has approximately eleventy billion "hyper-powers," the origin of which was never actually explained (not even a lousy two pages of "cosmic rays something something") and among them, as specifically listed in Who's Who, is the ability to "project various kinds of energy to do an array of things."
An array of things.
THREE. Vartox married an alien chick who died when a woman on Earth, her "bionic twin," was shot and killed. The fact that this makes absolutely no sense whatsoever did not stop Vartox from pursuing the murderer of that Earth woman and bringing him back to face justice on his home planet, by aging him sixty years in a matter of minutes. Superman was apparently just fine with this horrific punishment and lack of any real trial, because, hey, alien guy.
FOUR. Vartox worked briefly as a security guard. This is probably the greatest deal of overkill in a secret identity in the history of comics. Can you imagine being the petty thugs who decided to steal a pallet of toaster ovens from Vartox' warehouse? Man, it sure would suck to be those guys. He would hit them with his various kinds of energy and do an array of things to them!
FIVE. Vartox makes a cameo in "Whatever Happened To The Man Of Tomorrow?", which puts him one up on chumps like the Teen Titans, who have never even been in an Alan Moore comic. (Alan Moore has a secret love of thigh-high leather boots, Speedos, and shirtless vest-wearing.)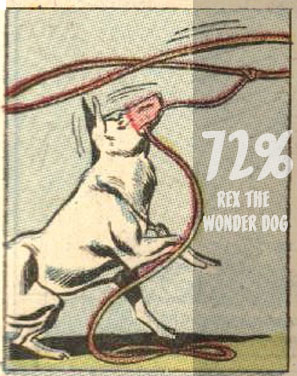 Come on. He deserves the love.
Top comment: So what's the square thing sticking out of the calf on his right boot? Unless it's specifically cited, I'm going to assume it's where he keeps his Marlboro Reds because he doesn't have any sleeves to roll them up in. — ps238principal